Bennett Stump Field
---
| | | |
| --- | --- | --- |
| Exterior of Bennett Stump Field, Jul-2016. | The modest bleachers as seen from down the third-base line. | The field is not perfectly aligned with the home plate bleacher. |
---
Quick Facts:
Location: City Park, Park Avenue at 23 Street, Parkersburg, W.Va.
Opened: 1925 (renovated 1989)
Home team: Ohio Valley Redcoats, Frontier League (1993-98); Ohio Valley University Fighting Scots, Great Midwest Athletic Conference
Capacity: 2,000 (approx.)
---
The baseball field at Parkersburg City Park dates to 1925. New bleachers were installed in 1989 thanks to a fund drive spearheaded by Bennett Stump, of the local American Legion post whose team uses the field, and the facility was subsequently dedicated in his honor.

The park is nondescript by modern standards, with a small press box, cramped dugouts, and no permanent seating. Yet it was available for play in the early 1990s, and the market was enticing. When the independent Frontier League started in 1993, it set up eight franchises in a three-state area: Kentucky, West Virginia, and Ohio. The Ohio Valley Redcoats played here for the league's first six seasons, becoming the second longest lasting of the original franchises behind the Chillicothe Paints. (The area around Parkersburg is generally referred to as the Mid-Ohio Valley; that is the name of Parkersburg's regional airport.)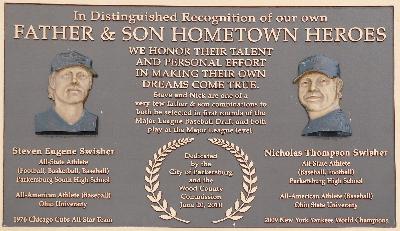 With the league expanding westward, the franchise moved to League Stadium in Huntingburg, Ind., for 1999. The Redcoats name was revived for one season, 2005, but that club played mostly as a road team, with a few games several miles north in Marietta, Ohio. There was talk around 2012 of bringing the Frontier League back to Parkersburg, but nothing materialized, as it would have required construction of a new stadium.
Today, the field is used for high school and Legion ball as well as by Ohio Valley University, a Parkersburg-based NCAA Division II institution.
In 2010, the city of Parkersburg and Wood County jointly dedicated a plaque outside the field to the city's favorite father and son, Steve and Nick Swisher. The Parkersburg natives were both All-America baseball players (Steve for Ohio, Nick for Ohio State) and first-round draft picks (Steve by the White Sox, Nick by the Athletics) who went on to play in Major League Baseball.
---
Return to the Stadiums page
Return to Charlie's home page
E-mail: charliesballparks@verizon.net
---
Site and images Copyright © 2016 Charles O'Reilly. All rights reserved.
This page updated 7-Jul-2016