Carson Park
---
| | | |
| --- | --- | --- |
| Home plate entrance to the Carson Park baseball stadium, Sep-2010. | A look at the main grandstand from down the first-base line. | A view from directly behind the plate. |
---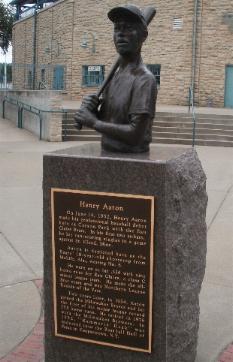 Quick Facts:
Location: Carson Park, Eau Claire, Wis.
Opened: 1937
Home team: Eau Claire Bears (1937-53), Braves (1954-62), Northern League
Capacity: 1,500
---
The baseball field at Carson Park, located on an island in the city of Eau Claire, was constructed by the New Deal-era WPA in 1937, and the Eau Claire Bears, who had started in 1933, became its principal tenant. The club changed its name to the Braves, after its parent club, when the Boston Braves relocated to Milwaukee in 1954.

The Bears had a three-year run, from 1950 to 1952, in which they won at least 70 games a season. The 1952 squad was led by Hank Aaron, who batted .336. While he would go on to break Babe Ruth's career home run record in 1974, he only hit nine in 87 games with the Bears. Fellow future major leaguer Wes Covington belted 24 homers for the squad that season.

Pro ball left Eau Claire after 1962, but the stadium lives on to this day and it currently hosts the Eau Claire Express of the Northwoods League, a college summer league.
---
Return to the Stadiums page
Return to Charlie's home page
E-mail: charlies.ballparks@verizon.net
---
Site and images Copyright © 2010 Charles O'Reilly. All rights reserved.
This page updated 21-Sep-2011