Chronological Tour: Stop 92

Centennial Field
---
| | | |
| --- | --- | --- |
| Walking into the University of Vermont's Centennial Field, Jul-2002. | The grandstand dates to 1922, making it among the oldest in the nation still in use. | That's not an optical illusion. There is plenty of foul territory here. |
---
Quick Facts:
Location: University of Vermont, East and Colchester avenues, Burlington, Vt.
Opened: 1906 (grandstand built 1922)
Home team: Burlington A's, Provincial League (1955); Vermont Reds (1984-86), Mariners (1987-88), Eastern League; Vermont Expos (1994-2005), Lake Monsters (2006-present), New York-Penn League; University of Vermont Catamounts (1906-2009)
Capacity: 4,000
Rating:



3 baseballs
---
Over the years, the University of Vermont has hosted several teams at its Centennial Field, dedicated in 1906 and used by the university for several sports. As soon as the main grandstand was built in 1922, the park began to host semi-pro and "outlaw" professional leagues. The Provincial League, which had operated as an "outlaw" league in the late 1940s and early 1950s, went legitimate in 1955; a Kansas City Athletics farm club made its home in Burlington.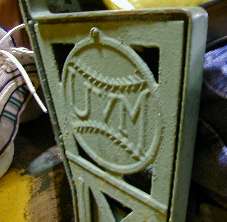 Original UVM seat row end from 1922.

Centennial Field, which also saw Eastern League action in the 1980s, was overhauled for the New York-Penn League's Vermont Expos in 1994, upgrading a park that was already over 70 years old into a place worth stopping in Vermont's largest city.

Watch for "Champ", the Lake Monsters' mascot. He's named for Lake Champlain, the body of water about a mile west of the field out of which the mascot is said to have emerged just in time for the 1994 season.

Also notice the copious amount of foul territory. The park has been used as a track, among other things, so the distance from the dugout to the base line is almost as far as that from home plate to first base.

In 2009, UVM announced that it was dropping intercollegiate baseball, drawing further attention to the deteriorating conditions at Centennial Field, including substandard dugouts and clubhouses as well as a rapidly worsening playing surface. Rumors had circulated that the club might move at the end of the 2009 season, even as its owner, who runs a local trucking company, had no desire to leave Burlington. Sure enough, the Lake Monsters remain as Centennial's main tenant.

And they apparently plan to stay a while. Centennial Field received quite a few updates for the 2012 season, including a new video board, new field lighting, and a reworked playing surface. The stadium is still the same, though a new picnic pavilion has been added down the right-field line.
---
Return to the Stadiums page
Return to Charlie's home page
E-mail: charlies.ballparks@verizon.net
---
Site and images Copyright © 2002 Charles O'Reilly. All rights reserved.
This page updated 4-Aug-2012