Chronological Tour: Stop 107

The Jewel of the Blue Ridge
---
| | | |
| --- | --- | --- |
| Main entrance to Salem Memorial Baseball Stadium, Aug-2011. | The simple 1990s-style seating bowl has served the park well. | A spectacular view of the Blue Ridge Mountains above the Roanoke River is often available. |
---
Quick Facts:
Location: James E. Taliaferro Civic Center Complex, Salem, Va. (map it using Google Maps)
Opened: 1995 as Salem Memorial Baseball Stadium
Additional names: LewisGale Field (2006)
Home team: Salem Avalanche (1995-2008), Red Sox (2009-present), Carolina League
Capacity: 6,300 (4,968 permanent seats)
Rating:




4 baseballs
---
The gem of the Carolina League is here in the Roanoke Valley, convenient to I-81 in this independent city of Virginia. The Salem franchise moved here from Kiwanis Field, a mile to the south, in 1995. In 2006, the facility took on a naming sponsor, a local hospital, but since the park was originally dedicated to veterans, the name "Salem Memorial Ballpark" is once again prominent.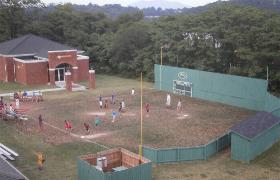 A mini-Fenway Park beyond left field.

You can't knock the architecture of the city-owned park, which for several years also hosted the finals of the NCAA Division 3 baseball championship as well as the Avalanche. But the true selling point is the view of the Blue Ridge Mountains beyond the outfield wall.

Often, the mountains themselves are obscured in a bluish haze. It isn't fog or smog; it's a natural phenomenon, which is how the Blue Ridge got its name. But where else can one see "purple mountain majesties above the fruited plain" and a ball game at the same time?

The park saw some improvements when the team became a Boston Red Sox affiliate, including a mini-Fenway Park for kids to play on beyond the left-field grandstand. The grandstand walls, which were unpainted and became extremely hot when the sun beat on them, are now painted blue to match the seats. The stadium itself continues to feature one of the highest all-around outfield walls in the minors, in the vicinity of 20 feet tall.

Seating below the main concourse is premium seating; except for the boxes behind home plate, all the upper-level seating is now general admission. As with many ballparks today, day-of-game sales command a premium; in 2014, general admission tickets are $7 in advance (or in flex packs), $9 on the day of the game.
---
Return to the Stadiums page
Return to Charlie's home page
E-mail: charlies.ballparks@verizon.net
---
Site and images Copyright © 2011 Charles O'Reilly. All rights reserved.
This page updated 24-May-2014