Chronological Tour: Stop 335

Bruce Hurst Field
---
| | | |
| --- | --- | --- |
| Entrance to Bruce Hurst Field, Jul-2008. | The seating bowl, as seen from a corner of the bleachers. | In this view behind the plate, you can see the misting system installed in 2008. |
---
Quick Facts:
Location: Dixie State College, 800 East between 300 South and 600 South, St. George, Utah
Opened: 1997
Home team: Zion Pioneerzz (1999-2000), St. George Pioneerzz (2001), Western League; St. George RoadRunners (2007-10), Golden League; Dixie State College Rebels, Pacific West Conference
Capacity: 3,000 (approx.)
Rating:



3 baseballs
---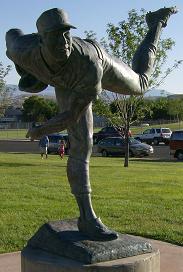 Bruce Hurst, who spent 15 seasons as a pitcher in Major League Baseball mostly with the Red Sox and Padres, is a native of St. George, Utah. He reportedly kicked in a good chunk of the money needed for Dixie College, then a state junior college, to build this handsome facility in 1997.

The facility first saw professional use in 1999 with the Zion Pioneerzz of the independent Western League, who inexplicably jumped on the trend of teams up in Salt Lake City (the Jazz, Buzz, etc.) to end their names with a double Z. The Pioneerzz lasted for three seasons.

Meanwhile, Dixie College (so named because it is located in the southern part of Utah, its hottest section, and at one time a cotton-growing region) began the process of upgrading itself to a four-year school. With that, the Rebels have now moved from the NJCAA to NCAA Division II. The athletic program was granted eligibility for NCAA Championship participation for 2008-09. And pro baseball returned to Bruce Hurst Field as well, with the RoadRunners of Golden League Baseball, another independent loop.

The field, located across 800 East from Hansen Stadium (the football field), features a central section of brick and concrete, with aluminum folding seats that hold about 600 spectators. The seating bowl is flushed out by two aluminum bleachers on each side of the main seating bowl, each of which can hold about 600, bringing the total capacity to about 3,000. The field is at a lower level than the front of the stands (which is roughly at street level), so some foul flies cannot be easily tracked by all spectators.

Fences are at a decent distance, 330 feet down the lines, 390 to center, and they are high fences too, recently doubled to 24 feet except kept at 12 feet where the scoreboard and flag poles are, and at 20 feet in the batter's eye in straightaway center. That didn't stop the Roadrunners from belting four home runs in the game I watched in 2008.

Also added to the field for the Golden League season of 2008 is a misting system, designed to keep spectators a bit cooler as they watch the game. The summertime heat in St. George rivals that in Las Vegas, 120 miles down I-15.

On the negative side, for me, was the fan experience. When I arrived, there were no programs or rosters available, and the one-line message board above the scoreboard was not operational. The public address announcer was over the top, and one had trouble making out even simple surnames like Hicks. On top of that, Reggie the Roadrunner was a rather obnoxious mascot, chomping on young (and occasionally old) spectators' heads and also thinking nothing of dropping a water balloon or spilling a cup of water on an unsuspecting child (in the name of keeping cool, of course).

After suffering various problems during the 2010 season, the RoadRunners announced plans to move to Henderson, Nev., for 2011. That never happened; the franchise remains mothballed.
---
Return to the Stadiums page
Return to Charlie's home page
E-mail: charliesballparks@verizon.net
---
Site and images Copyright © 2008 Charles O'Reilly. All rights reserved.
This page updated 29-Jan-2013