Chronological Tour: Stop 319

Home of the Owlz, and Wolverines
---
| | | |
| --- | --- | --- |
| Main (third base) entrance to the ballpark at Utah Valley State College, Aug-2006. | The sun sets behind the ballpark; during the day, Utah Lake is visible to the left. | As always in Utah, the Wasatch Front helps out with the view. |
---
Quick Facts:
Location: University Parkway at I-15, Orem, Utah
Opened: 2005
Home team: Orem Owlz, Pioneer League (2005-present); Utah Valley University Wolverines, Western Athletic Conference
Capacity: 4,000
Rating:




4 baseballs
---
The Provo Angels moved for 2005 off the Brigham Young University campus and into this park three miles west on University Parkway, on the Utah Valley State campus.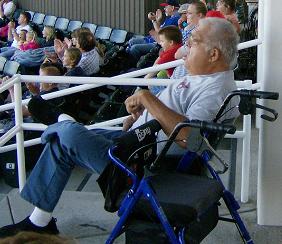 Who? This fellow hoots for the Owlz all game long.

In addition to being able to play on Sundays, which they could not do at BYU, the team, now christened the Orem Owlz (with a final "z" matching a number of other professional teams in the Beehive State), got much better visibility from the I-15 freeway, which connects Orem not only to Salt Lake City but to the Canadian border and San Diego, as well as league opponents in Helena and Ogden.

I did find a flaw in that the park has only the one entrance, down the third-base line. The rest of the exterior faces the campus access road, which is well below concourse level. Another issue is that there is a $4 charge to park for Owlz games (it helps the Owlz pay the school for rent, as I understand it). Otherwise, the park is a fine facility.

However, I left the park after my 2006 game humming the old America song "A Horse with No Name", because this was a park with no name. Early press releases had it as Parkway Crossing Stadium, which reflected a sponsor who operates off-campus student housing. However, Parkway Crossing failed to make its payments to the college, and so the name never appeared on the park. The pro team is referring to it as simply the "Home of the Owlz", while the school, which became Utah Valley University in 2008, accepted a donation from a local automobile dealer in June 2007 to rename the facility as Brent Brown Ballpark.
---
Return to the Stadiums page
Return to Charlie's home page
E-mail: charliesballparks@verizon.net
---
Site and images Copyright © 2006 Charles O'Reilly. All rights reserved.
This page updated 20-May-2014