Chronological Tour: Stop 361

Impressive Independent Effort Outside Houston
---
| | | |
| --- | --- | --- |
| Main entrance to Constellation Field (behind third base), Jul-2012. | A look in from down the third-base line. | From behind the plate, the Texas-sized (and shaped) video board dominates the view. |
---
Quick Facts:
Location: TX 6 just north of US 90 Alternate, Sugar Land, Texas
Opened: 2012
Home team: Sugar Land Skeeters, Atlantic League (2012-present)
Capacity: 5,200
Rating:




4 baseballs
---
Constellation Field is the first park to be built for a proposed Western Division of the independent Atlantic League, and it appears the Sugar Land Skeeters have succeeded in opening a very impressive park in the Houston suburbs.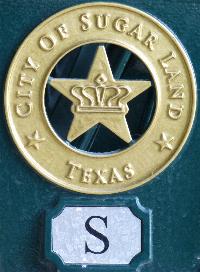 The field, sponsored by an energy company, features typical accoutrements of new ballparks such as upper-level suites and a kiddie play area, but you can also find a carousel in left-center field as well as a kids-only swimming pool. There are a few pools in baseball, but this is the first one I have noticed that is restricted to children. The park also has a walk-around concourse, making it easy to watch the game from any angle. Fans on the grass berm in right field sit directly behind the bullpens – and home-team pitchers get driven onto the field on a golf cart with a ball-shaped roof, a throwback to the bullpen cars that were common in the majors in the 1960s.
A nice touch is that parking at Constellation Field is free, helping make the place more affordable, although ticket prices are a tad high (in 2012, a reserved seat set you back $13, with $9 general admission). The staff is quite friendly; when I complained that the starting lineups didn't stay on the concourse video boards long enough for a fan to write them down, a staffer brought me into the press box to hand me a printed lineup sheet.
One drawback is that the field faces southeast rather than the usual northeast. Having left field rather than right field be the sun field is not so much of a big deal, but with the prevailing westerlies, righty pull hitters get a nice bit of help knocking the ball out of the yard. No fewer than five home runs were hit in the game I saw in 2012.
---
Return to the Stadiums page
Return to Charlie's home page
E-mail: charlies.ballparks@verizon.net
---
Site and images Copyright © 2012 Charles O'Reilly. All rights reserved.
This page updated 27-Jul-2012