Chronological Tour: Stop 307

A Tasty Burger, a Tasty Field
---
| | | |
| --- | --- | --- |
| They make 'em big in Texas: A huge ballplayer statue at the front of Whataburger Field, Sep-2005. | Fans watch the action from one of two grass berms, this one in right field. | The bridge to Corpus Christi Beach (US 181) is visible here. |
---
Quick Facts:
Location: Port Avenue at Tancahua Street, west of US 181, Corpus Christi, Texas (map it using Google Maps)
Opened: 2005
Home team: Corpus Christi Hooks, Texas League (2005-present)
Capacity: 5,050 fixed seats
Rating:




4 baseballs
---
In 2004, Ryan-Sanders Baseball, the company started by Hall of Fame pitcher and Texas native Nolan Ryan to bring more baseball to the Lone Star State, purchased its second team. They acquired the Edmonton Trappers and moved them to Round Rock, where the Express were already wildly successful in the Texas League.

With the Express becoming a Pacific Coast League franchise, the Ryans needed a place to put their Texas League club. They struck a deal with Corpus Christi, the Gulf seaport city about 200 miles to the south which had not hosted organized baseball since 1977 at Cabaniss Field.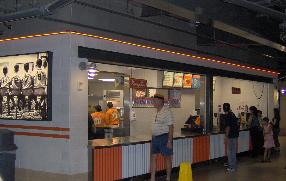 You can even get a Whataburger.

Whataburger Field, named for a hamburger chain founded in 1950 in Corpus Christi and prevalent throughout Texas, is located on the shoreline of Corpus Christi Inlet, in the port district. Tanker ships and other vessels are often visible from the seats, and the bridge connecting the main part of the city with Corpus Christi Beach dominates the skyline – until the sun goes down, when you hardly know it's there as its only illumination is the mandatory beacon lights.

The field includes a wide variety of concession stands, plenty of space in the outfield from which to observe the game (including behind see-through bullpens), kids' play areas, and, of course, a fair number of luxury suites on the second level. The fixed seating capacity was limited to just over five thousand in order to produce a more intimate setting for spectators.

I thought the concourses were slightly narrower than they needed to be, and I also objected to running around corners to reach rest rooms, as well as running downstairs to the gift shop. Otherwise, I thought highly of Whataburger Field. So did the fans, who filed through the gates in the Hooks' first season to the tune of over half a million paid admissions.
---
Return to the Stadiums page
Return to Charlie's home page
E-mail: charlies.ballparks@verizon.net
---
Site and images Copyright © 2005 Charles O'Reilly. All rights reserved.
This page updated 14-Aug-2009