Chronological Tour: Stop 148

Scorin' on the Guitar in the Music City
---
| | | |
| --- | --- | --- |
| The main entrance to Greer Stadium, down the first-base line, Jul-2013. | The seating bowl is typical of 1970s construction. | Here, you see the distinctive scoreboard that made this place stand out. |
---
Quick Facts:
Location: Chestnut & 8th Streets, Nashville, Tenn. (map it using Google Maps)
Opened: 1978
Home team: Nashville Sounds, Southern League (1978-84), American Association (1985-97), Pacific Coast League (1998-2014); Nashville Xpress, Southern League (1993-94)
Capacity: 10,700
Rating:


2 baseballs
---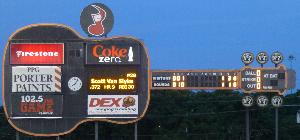 The best part of this park might be the guitar.

Nashville, which just happens to be the capital of the Volunteer State, is better known as the Music City. The Grand Ole Opry has originated from here since the 1930s, and that helped build the town's reputation as a hotbed of country music. In commemoration of all this, the team that's played in Nashville since the 1970s is known as the Sounds. They've even worked musical notes into their logo.

Now Herschel Greer Stadium is an otherwise dull, uninspiring place, although it's fairly comfortable for watching a ball game. It knows its role. It's not aligned for a beautiful view of downtown, or anything like that. It's just a baseball stadium. But the redeeming feature of the place is the scoreboard, visible above. The Fair-Play board is shaped like a guitar, with message and video boards in the barrel, the line score in the neck, and the batter's number, count, and outs up near the tuning knobs.

For two seasons in the early 1990s, Greer Stadium hosted two teams. The former Charlotte Orioles of the Southern League moved in and became known as the Xpress; they left in 1995 to become the Port City Roosters.

The 2014 season was the last one at Greer Stadium for the Sounds. The city of Nashville broke ground on a new ballpark in the Sulphur Dell area, where the Nashville Volunteers played through 1963. The new stadium was ready for the 2015 season.
---
Return to the Stadiums page
Return to Charlie's home page
E-mail: charlies.ballparks@verizon.net
---
Site and images Copyright © 2013 Charles O'Reilly. All rights reserved.
This page updated 22-Jan-2016