Chronological Tour: Stop 5

Home of the Longest Game
---
| | | |
| --- | --- | --- |
| Main entrance to the renovated McCoy Stadium, May-2010. | The seating bowl, after the renovation, Jul-2000. | Additional bleachers in the outfield only enhance the facility. |
---
Quick Facts:
Location: Columbus Avenue and Pond Street, Pawtucket, R.I. (map it using Google Maps)
Opened: 1942 (renovated: 1999)
Home team: Pawtucket Slaters, New England League (1946-49); Pawtucket Indians (1966-67), Red Sox (1970-72), Eastern League; Pawtucket Red Sox, International League (1973-present; perhaps called Rhode Island Reds, 1976)
Capacity: 10,000
Rating:



3 baseballs
---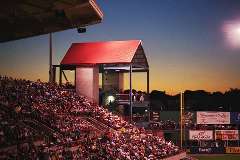 The new left-field cupola at sunset.

Baseball history was made 18-Apr-1981 at McCoy Stadium. That night, the Pawtucket Red Sox and Rochester Red Wings played until after 4 in the morning without determining a winner. The game wound up going 33 innings, a professional record.

The venerable old park received a face lift prior to the 1999 season; the stadium was completely redone, and even the field moved a few feet to allow for 2,998 extra seats. I got back to it in 2000, and as you can see, itís greatly improved. In any case, itís still the real McCoy.
---
The park, pre-renovation (1995): Exterior | Field
---
Return to the Stadiums page
Return to Charlieís home page
E-mail: charlies.ballparks@verizon.net
---
Site and images Copyright © 1995, 2000 Charles OíReilly. All rights reserved.
This page updated 2-Aug-2011