Chronological Tour: Stop 7

Home of the Potato Play
---
| | | |
| --- | --- | --- |
| Home plate entrance to Bowman Field, Jul-2010. | The seating bowl, as seen from down the right-field line. | Looking out at the field from beyond home plate. |
---
Quick Facts: Rating:



3 baseballs
---
The logging town of Williamsport, Pa., has hosted minor league baseball since even before 1926, when Bowman Field was completed to host their New York-Pennsylvania (later Eastern) League franchise. At one time, part of Fourth Street was known as Millionaires' Row because that was where the logging barons lived; the town's Tri-State League team between 1904 and 1910 was called the Millionaires, and the nickname still applies to the city's high school teams. Today, the town is best known as the birthplace of Little League Baseball, which started in the same city park (Memorial Park) that hosts the stadium.

Over the years, various leagues have played at Bowman Field. The park was home to the Eastern League for a while until 1992, when the New York Mets moved the Williamsport Bills up to Binghamton, N.Y. The New York-Penn League promptly moved in, and the club adopted the Crosscutters name, evoking the city's logging heritage, in 1999.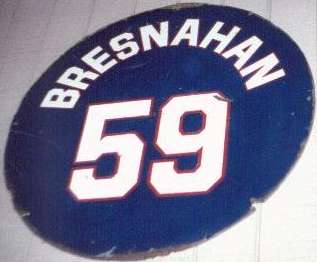 In 1987, catcher Dave Bresnahan of the Bills pulled off a classic stunt. His club was in seventh place in an eight-team league, playing the last-place Reading Phillies in a meaningless late-August game.
With a runner on third, Bresnahan switched catcher's mitts and put on a glove in which he had secreted a shaved-down potato. When the pitch came in, Bresnahan fired the potato down the third-base line, enticing the runner to sprint home. Bresnahan then tagged the runner with the baseball, prompting the umpire to award the runner home base for Bresnahan's deception.
The president of the Eastern League took offense to what it perceived as Bresnahan's affront to the game, banning the grandnephew of Hall of Famer Roger Bresnahan from the league. However, the citizens of Williamsport applauded Bresnahan for his ingenuity, eventually prompting the club to retire his number. The displayed retired number shown here used to be atop the concession stand; now it is on the left-field wall.
For the 2012-13 winter season, Bowman Field was outfitted with an ice rink and played host to the Williamsport Outlaws of the Federal Hockey League, a low-level professional league. The club, which played its previous season in Wayne, N.J., was the only pro hockey team in recent history to play an entire home season outdoors, although college and professional games have been scheduled at outdoor stadiums over the years.
The venerable facility finally earned a corporate sponsorship for 2014, but Susquehanna Bank honored the tradition by incorporating the Bowman reference into the official name.
---
| Game # | Date | League | Level | Result |
| --- | --- | --- | --- | --- |
| 30 | Sat 11-Aug-1990 | Eastern | AA | New Britain 5, WILLIAMSPORT 3 |
| 182 | Sun 20-Aug-1995 | NY-Penn | A | Batavia 9, WILLIAMSPORT 7 |
| 368 | Fri 30-Jul-1999 | NY-Penn | A | Jamestown 9, WILLIAMSPORT 5 |
| 1064 | Thu 29-Jul-2010 | NY-Penn | A | WILLIAMSPORT 1, State College 0 |
| 1311 | Fri 4-Jul-2014 | NY-Penn | A | WILLIAMSPORT 2, Auburn 1, 1st |
| 1312 | Fri 4-Jul-2014 | NY-Penn | A | Auburn 6, WILLIAMSPORT 4, 8 inn, 2d |
| 1436 | Sun 13-Sep-2015 | NY-Penn | A | WV Black Bears 4, WILLIAMSPORT 0 |
Return to the Stadiums page
Return to Charlie's home page
E-mail: charlies.ballparks@verizon.net
---
Site and images Copyright © 1995, 2010 Charles O'Reilly. All rights reserved.
This page updated 13-Sep-2015