Chronological Tour: Stop 268

Downsizing the Vet
---
| | | |
| --- | --- | --- |
| One of the many entrances to Citizens Bank Park, Jun-2004. | The seating bowl, as seen from down the right-field line. | The park looks out over 10th Street; center city Philadelphia is three miles north. |
---
Quick Facts:
Location: 11th Street and Pattison Avenue, Philadelphia, Pa. (map it using Google Maps)
Opened: 2004
Home team: Philadelphia Phillies, National League (2004-present)
Capacity: 43,500
Rating:




4 baseballs
---
If they had built this park with any kind of view, the new park in Philadelphia would have jumped into the upper echelon in my list of favorite Major League parks.

Citizens Bank Park replaced Veterans Stadium, which served Philadelphia baseball and football fans for 33 seasons. Early discussions had the park being built in the Chinatown section or near the 30th Street rail station, but in the end the park was built across 11th Street from the site of the Vet, which was imploded in March 2004.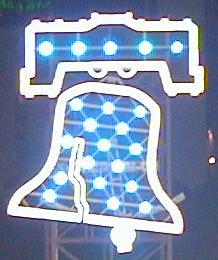 The Liberty Bell after a home run.

The park reminds me most of Comerica Park in Detroit, built four years earlier. There are four levels of seating, rather than the seven at the Vet, and the park rises considerably lower than the Vet did. The upper levels are split down the right field line, a design feature I could not explain at Detroit, either. In the main seating bowl, the central sections behind home plate are fenced off so that fans cannot simply run through them and disturb spectators' view.

Concession areas are numerous and varied, with popular local purveyors setting up shop beyond the outfield. The bullpens are stacked up atop each other in right-center, and fans can stand by the bullpens and watch pitchers warming up. Next to the bullpens is a Hall of Fame area, featuring the history of Philadelphia professional baseball and Hall of Fame players associated with the City of Brotherly Love.

Access to most seats is by walking, although there are some elevators and escalators. This is no different from the Vet, although here stairwells are provided along with pedestrian ramps.

The park has a large neon outline of the Liberty Bell in the outfield. When a Phillies player hits a home run, the bell swings and lights up with LEDs. Scoreboard displays are numerous, with all out-of-town scores shown on the right-field wall. The Phast Facts board displaying the official scoring decisions has also been retained.

In all, they did a good job making a more comfortable baseball-only park (the NFL Eagles opened a new stadium across Pattison Avenue in 2003). The main drawback is that the park is three miles from center city, so on a cloudy or hazy day the only view is of 10th Street (which runs into center field) and the lower end of the Schuylkill Expressway. A pretty view, such as is found at the new park in Pittsburgh, would have made this park truly wonderful.
---
Game #
Date
League
Level
Result
658
Thu 17-Jun-2004
National *
MLB
Detroit 5, PHILADELPHIA 4, 11 inn, night
801
Wed 28-Sep-2005
National
MLB
PHILADELPHIA 16, NY Mets 6
826
Sun 30-Jul-2006
National
MLB
PHILADELPHIA 9, Florida 2, night
892
Mon 27-Aug-2007
National
MLB
PHILADELPHIA 9, NY Mets 2
927
Sun 6-Jul-2008
National
MLB
NY Mets 4, PHILADELPHIA 2, 12 inn
1049
Tue 29-Sep-2009
National
MLB
PHILADELPHIA 7, Houston 4
1094
Mon 6-Sep-2010
National
MLB
Florida 7, PHILADELPHIA 1, day
1129
Sat 23-Jul-2011
National
MLB
PHILADELPHIA 8, San Diego 6
1228
Wed 29-Aug-2012
National
MLB
NY Mets 3, PHILADELPHIA 2
1259
Wed 31-Jul-2013
National
MLB
San Francisco 9, PHILADELPHIA 2
1342
Mon 18-Aug-2014
National *
MLB
PHILADELPHIA 4, Seattle 1
1448
Wed 30-Sep-2015
National
MLB
PHILADELPHIA 7, NY Mets 5
1533
Sun 2-Oct-2016
National
MLB
PHILADELPHIA 5, NY Mets 2
1621
Sun 1-Oct-2017
National
MLB
PHILADELPHIA 11, NY Mets 0
* Interleague play.
Return to the Stadiums page
Return to Charlie's home page
E-mail: charlies.ballparks@verizon.net
---
Site and images Copyright © 2004 Charles O'Reilly. All rights reserved.
This page updated 2-Oct-2017