Chronological Tour: Stop 288

Barnstormers Come Home
---
| | | |
| --- | --- | --- |
| Main entrance to Clipper Magazine Stadium, Jun-2005. | A single level of stadium seats is topped off by 22 luxury boxes. | Like many new parks, the outfield wall is asymmetrical. |
---
Quick Facts:
Location: Prince and Frederick streets, Lancaster, Pa.
Opened: 2005
Home team: Lancaster Barnstormers, Atlantic League (2005-present)
Capacity: 6,000
Rating:




4 baseballs
---
Prior to the arrival of the Lancaster Barnstormers to the Atlantic League in 2005, professional baseball had not been played in the Red Rose City since 1961. That was the year the aptly named Lancaster Red Roses folded after 20 years of operation.

A 16-year effort eventually led to the construction of this ballpark, just north of the center of town although the main street that runs by it is only open to southbound traffic. Likewise, whereas at most fields the batter faces northeast, here the batter faces northwest, making for interesting sun angles during night games in midsummer. The sun sets over left-center field – which I suppose isn't as bad as facing due west, as in Pittsfield, Mass., and Bakersfield, Calif. I didn't see this phenomenon, as I attended a Sunday afternoon game.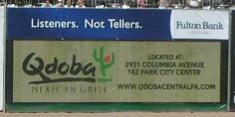 Where's the scoreboard?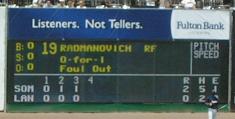 Oh, there it is!

Fans entering the park through the main entrance are handed a free game-day program, and the lineup and standing boards are straight in front of them – both of which I appreciate. The seating bowl is comprised of all stadium seats (no benches) in a single level, with ample concessions and walking space behind. There is also a grass berm in left field, and behind that a kids' play area including a rock-climbing area. The right-field line is consumed by a private-group picnic area. Above the main seating bowl are 22 sky boxes.

One problem I have with the park is the absence of a standard scoreboard. The only score indication visible to fans behind the plate or along the third-base side is a matrix board in right field, which shows the score during the inning but switches to advertisements between innings, or to a photo of the relief pitcher at the time of a pitching change. Management is aware of that and plans to introduce additional score displays, mindful of the balance between entertainment for the casual attendee and information for the serious fan. A monochrome matrix board is mounted above the third-base stands; it always displays the score during the game but is not visible to all fans. An additional board is planned for the first-base stands.

Clipper Magazine, the naming sponsor, is a free-distribution monthly magazine containing discount coupons and other advertisements from local sponsors. The local edition is targeted mainly to Lancaster County.
---
Return to the Stadiums page
Return to Charlie's home page
E-mail: charlies.ballparks@verizon.net
---
Site and images Copyright © 2005 Charles O'Reilly. All rights reserved.
This page updated 27-Jul-2011