Chronological Tour: Stop 330

And We're Playing Here in Allentown
---
| | | |
| --- | --- | --- |
| First-base (main entrance) side of Coca-Cola Park, Jun-2008. | A look at the seating bowl from the wrap-around concourse. | The view from behind the plate. |
---
Quick Facts:
Location: IronPigs Way and Highland Street (between Dauphin Street and Airport Road, between American Parkway and Union Boulevard), Allentown, Pa. (map it using Google Maps)
Opened: 2008
Home team: Lehigh Valley IronPigs, International League (2008-present)
Capacity: 10,000 (8,100 permanent seats)
Rating:





5 baseballs
---
When Chuck Domino gets involved with a project, he does it right.

The Lehigh Valley had been waiting for affiliated baseball for decades. Allentown's last team had been in the Interstate League in 1952. The independent Northeast League had played for seven years in a substandard facility off Lehigh Street, but that team had collapsed after the 2003 season. Another park was started just south of Easton off I-78 for a different independent team, but that facility was never completed.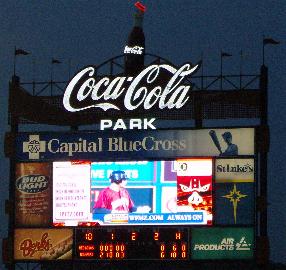 The Coke bottle is ready to explode.

Domino, who has been involved with the Reading Phillies for two decades, had the opportunity to set things right for this old iron-mining region. He made arrangements to bring the Ottawa franchise in the International League to Allentown, and he secured an affiliation with the Philadelphia Phillies, who play just 50 miles to the south. (That move set off a string of five affiliation shifts in the International League for 2007. Scranton/Wilkes-Barre, a Phillies farm team for 18 seasons, wound up going to the Yankees.)

The Ottawa Lynx played one final season of Triple-A ball as a Phillies farm club, while Domino's team built a new park off Airport Road, just inside Allentown city limits on the south side of the Lehigh Valley Thruway (Route 22). The park was ready for the home opener of the Lehigh Valley IronPigs (the name is a play on the term "pig iron", iron that comes straight out of the blast furnace before being refined into steel) in April 2008.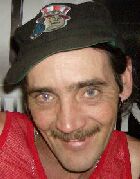 An Ambassadors fan!

One look at Coca-Cola Park (sponsored by the Lehigh Valley bottling company) shows you that Domino knew exactly what he was looking for in a ballpark. There is a section of ultra-premium seats directly behind the plate, right at ground level, in front of team offices, as well as a premium upper deck. There is also a substantial main deck with reasonable ticket prices, and general admission (stand on the concourse or sit on the grass berm) is just $7. (By 2016, that price had risen to $9.) On my first trip to the park, with nearly 10,000 fans in attendance, I sat for much of the game at the base of a light tower down the right-field line. As one might expect, sightlines are excellent.

The park features the requisite number of freestanding concession stands, the Blast Furnace Grill in right field, a kids' play area in left field, a walk-around concourse which is sufficiently wide behind the main seating bowl, and a scoreboard with an exploding Coke bottle (a firework shoots off behind it whenever the IronPigs score). The scoreboard was updated with a larger video board for 2017, and the actual line score was relegated to a ribbon board beyond left field.

By the way, the IronPigs' main mascot, Ferrous the pig, wears No. 26. Why? Because that's the atomic number of iron. Extra credit if you remembered that from chemistry class (I didn't).

For the 2013 season, Coca-Cola Park was tabbed to host the Triple-A National Championship Game, which has rotated around various sites since its inception as a one-game showdown between the International League and Pacific Coast League champions in 2006. In the game, Chris Dwyer of the Omaha Storm Chasers retired the first 20 batters he faced and earned the 2-1 victory over the Durham Bulls.
---
Game #
Date
League
Level
Result
921
Sat 7-Jun-2008
International
AAA
LEHIGH VALLEY 8, Rochester 2
988
Sun 12-Apr-2009
International
AAA
Scranton 14, LEHIGH VALLEY 4
1063
Thu 29-Jul-2010
International
AAA
Durham 2, LEHIGH VALLEY 1, 11 inn
1147
Wed 17-Aug-2011
International
AAA
LEHIGH VALLEY 3, Rochester 1
1175
Fri 16-Sep-2011
International
AAA
Columbus 4, LEHIGH VALLEY 1
1188
Tue 3-Jul-2012
International
AAA
LEHIGH VALLEY 6, Scranton 5
1195
Sun 22-Jul-2012
International
AAA
Columbus 5, LEHIGH VALLEY 3
1289
Mon 2-Sep-2013
International
AAA
Pawtucket 4, LEHIGH VALLEY 0
1296
Tue 17-Sep-2013
International *
AAA
Omaha 2, DURHAM 1
1341
Sun 17-Aug-2014
International
AAA
LEHIGH VALLEY 3, Buffalo 2
1430
Mon 7-Sep-2015
International
AAA
Rochester 8, LEHIGH VALLEY 1
1453
Wed 4-May-2016
International
AAA
Pawtucket 7, LEHIGH VALLEY 2
1457
Mon 30-May-2016
International
AAA
LEHIGH VALLEY 6, Norfolk 4
1563
Wed 26-Jul-2017
International
AAA
LEHIGH VALLEY 8, Gwinnett 2
* Interleague play (with Pacific Coast League).
Return to the Stadiums page
Return to Charlie's home page
E-mail: charliesballparks@verizon.net
---
Site and images Copyright © 2008 Charles O'Reilly. All rights reserved.
This page updated 27-Jul-2017