Chronological Tour: Stop 12

Former Home of the Redbirds
---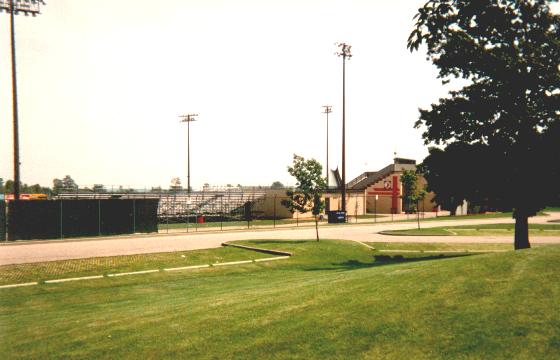 The exterior of Bernie Arbour Stadium, Aug-1992.
---
Quick Facts:
Location: In Mohawk Sports Park, Limeridge Road & Kenilworth Boulevard (on the hill), Hamilton, Ont.
Opened: Unknown
Closed: 1992
Home team: Hamilton Redbirds, New York-Penn League (1988-92)
Capacity: 3,000 (est.)
Rating:


2 baseballs
---
This was one of two parks I saw in Ontario on my first visit to the province, in 1990. I revisited the park in 1992 and took these photos.

Bernie Arbour Stadium had an adequate main grandstand flanked by metal bleachers going down the lines. The place was good enough for New York-Penn ball, at least at that time.

During 1992, the team was bought by an investor from New Jersey who relocated the team to his home state. Arbour's life in the minors ended after the 1992 season, as the club was moved to Glens Falls, N.Y. for 1993 and then to New Jersey in 1994.
---
Return to the Stadiums page
Return to Charlie's home page
E-mail: charlies.ballparks@verizon.net
---
Site and images Copyright © 1992 Charles O'Reilly. All rights reserved.
This page updated 10-Aug-2009