Chronological Tour: Stop 221

The New Hen House
---
| | | |
| --- | --- | --- |
| Front entrance to Toledo's Fifth Third Field, Jul-2002. | The seating bowl, as seen from The Roost. | The downtown park incorporates a few Toledo historic buildings. |
---
Quick Facts:
Location: Washington and Huron streets, Toledo, Ohio (map it using Google Maps)
Opened: 2002
Home team: Toledo Mud Hens, International League (2002-present)
Capacity: 10,000
Rating:




4 baseballs
---
When one of the most famous minor league baseball teams built a new park, they did it right.

For all but a few years in the 1940s and '50s, teams in Toledo have been known as the Mud Hens. They played in downtown Toledo until 1955 but then left town. When they returned in 1965, they moved into a park in nearby Maumee that was hastily pressed into service for baseball. It was always inadequate, and in 2002 the Mud Hens returned to downtown Toledo, landing at this new park.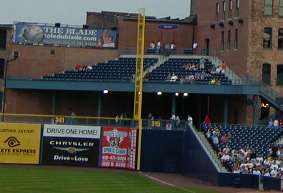 The Roost in right field.

The park has two decks, with sky boxes flanking the press box above the upper deck, which is about 8 rows deep and is known as the club level. There is a party area on each end of the club level. In addition, there is an area in right field known as the Roost, which is designed to evoke the bleachers at Wrigley Field. Instead of having the scoreboard behind it, though, the Roost is built into a corner created by the presence of two buildings. The original scoreboard, in left field, was a modern model that uses LEDs instead of bulbs, but it has been replaced by one of two video boards. Auxiliary ribbon boards have also been added along the first- and third-base sides.

My biggest complaint is that the second deck isn't quite high enough. The deck overhangs the last 5 or 6 rows of the lower deck, taking away perspective for those spectators. This is the only shortcoming I could find to an otherwise excellent effort that should serve Toledoans for years to come.

I do have a fairly meaningless complaint: the park shares a name with another facility in the Buckeye State. The park in Dayton is also called Fifth Third Field. In addition, Old Kent Park in Comstock Park, Mich., was renamed Fifth Third Park when Fifth Third Bank bought Old Kent Bank.
---
Return to the Stadiums page
Return to Charlie's home page
E-mail: charlies.ballparks@verizon.net
---
Site and images Copyright © 2002 Charles O'Reilly. All rights reserved.
This page updated 1-Sep-2017