League Park
---
| | | |
| --- | --- | --- |
| Right-field entrance and first-base line wall of League Park, Aug-2007. | Peering in from the short right-field porch along Lexington Avenue. | The view in 2007, standing close to home plate of the original League Park. |
---
Quick Facts:
Location: Lexington and East 66 Street, Cleveland, Ohio
Opened: 1891 (rebuilt 1910)
Closed: 1948 (for pro baseball)
Demolished: 1951 (most of the stadium structure); 2002 (last remaining grandstand)
Rebuilt as community ball field: 2014
Home team: Cleveland Spiders, National League (1891-99); Cleveland Lakeshores (1900)/Bluebirds (1901-02)/Naps (1902-14)/Indians (1915-46), American League; Cleveland Buckeyes, Negro American League (1943-48, 1950);

Cleveland Tigers, Ohio League (1916-19), National Football League (1920-22); Cleveland Indians/Bulldogs, National Football League (1924-27); Cleveland Rams, National Football League (1937, 1942, 1944-45); Case Western Reserve Spartans (1929-32, 1934-41, 1947-49)
---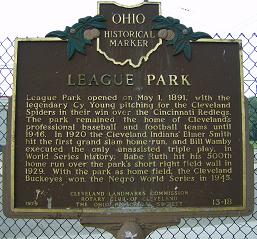 League Park opened in 1891 to accommodate the Cleveland Spiders of the National League, who were legislated out of existence during the 1899 season. The club that year transferred most of its remaining talent to the St. Louis Cardinals, and consequently they finished with a 20-134 record, the worst full-season record ever posted by a Major League team. (The Elizabeth, N.J., Resolutes went 2-21 in 1873 playing in the National Association.)

With Cleveland and three other cities, including Baltimore, losing their teams, the minor Western League moved several franchises for the 1900 season and renamed itself the American League. The Grand Rapids Rustlers moved to Cleveland in 1900 and became known as the Lakeshores and then the Blues. For 1901, the American League declared itself a major league, in direct competition with the downsized National League, and the designation stuck, making Cleveland a major-league city again after one year of absence.

League Park, briefly known as Dunn Field for its owner after a 1910 rebuild, remained the full-time home of the Tribe through 1931. In 1932, Lakefront Stadium opened; it became the Indians' part-time home that year, for weekend and holiday games, and later for night games. Lights were never installed at League Park. With the shift to more night games after the second World War, the Indians abandoned League Park after the 1946 season, although the Negro League Buckeyes continued to play there through 1948.

Most of the stadium structure was dismantled in 1951, but a first-base grandstand remained standing until 2002, when it too was torn out as part of a "renovation". Today, all that remains is the wall of that grandstand (shored up by metal beams) and the ticket office at the corner of Lexington and East 66. According to an article in The New York Times 5-Feb-2013, plans are in the works to renovate the site for amateur baseball, with an artificial turf field, a partial grandstand behind home plate, and a replica of the 45-foot-high right-field wall that was in play and shielded traffic on Lexington from short home runs. The finished product opened in August 2014.
---
Return to the Stadiums page
Return to Charlie's home page
E-mail: charliesballparks@verizon.net
---
Site and images Copyright © 2007 Charles O'Reilly. All rights reserved.
This page updated 12-Feb-2016