Fleming Field
---
| | | |
| --- | --- | --- |
| Scene as you walk into Fleming Field from the upper street, Mar-2004. | The seating area is spartan, to say the least. | A wide view of the seating bowl. |
---
Quick Facts:
Location: Prescott Street at Garfield Street, Yonkers, N.Y.
Opened: Unknown
Home team: Yonkers Hoot Owls, Northeast League (1995)
Capacity: 1,500 (approx.)
---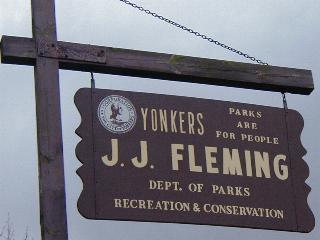 The City of Yonkers dedication sign.

When the Northeast League started in 1995, they were seeking a fan base in the metropolitan New York area. Unfortunately, this was the best they could do.

I saw a semi-pro game at Fleming Field in Yonkers back in 1983, and the facility looked pretty much like this. The restroom facility you see behind home plate appears to be the only improvement that was made to the park for the Hoot Owls, who nearly finished that first season. (Another correspondent indicates that the restroom facility wasnít there when he attended a Hoot Owls game, but that itís an even later structure.) They failed to play several games, possibly rainouts that were not made up, and finished with an abysmal 12-52 record.

If I gave parks at which I never saw a professional game my usual one-to-five-baseball rating, Fleming Field would probably owe me a baseball or two. Itís no wonder the Northeast League wasnít able to get back into the New York metro market until the dawn of the New Jersey Jackals in 1998.
---
| Game # | Date | League | Level | Result |
| --- | --- | --- | --- | --- |
| | 28-Aug-1983 | Yonkers BL | Unlimited | Hollow AC 4, Melís Way 2 |
Return to the Stadiums page
Return to Charlieís home page
E-mail: charlies.ballparks@verizon.net
---
Site and images Copyright © 2004 Charles OíReilly. All rights reserved.
This page updated 28-Jun-2010