Chronological Tour: Stop 122

Frontier Field
---
| | | |
| --- | --- | --- |
| Exterior of Frontier Field, from the west, Aug-1997. | The seating bowl, as seen from the berm in left field. This photo and the next are from Sep-2004. | The park looks out upon downtown Rochester as well as a train line. |
---
Quick Facts:
Location: Platt Street (Morrie Silver Way) at Plymouth Avenue, Rochester, N.Y. (map it using Google Maps)
Opened: 1997
Home team: Rochester Red Wings, International League (1997-present); Scranton/Wilkes-Barre Yankees, International League (2012, some games)
Capacity: 10,868
Rating:



3 baseballs
---
Silver Stadium had served the Rochester Red Wings well for many seasons, but it was lacking in amenities that were either required by the National Association or desired by those all-important corporate clients.

As a result, it saw its last season of use in 1996, to be replaced the next year by a new, state-of-the-art ballpark. Frontier Field, which gets its name from a telephone company, meets all the standards for the new parks, including sky boxes, seating for over ten thousand, and a fair degree of architectural uniqueness.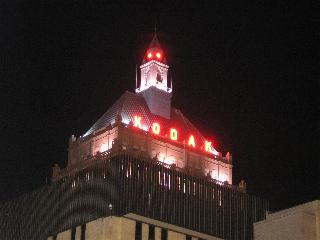 The Eastman Kodak building beyond left field.

The park actually evokes Camden Yards, the home of Rochester's major league parent from 1961 to 2002, to some degree. Several touches, including see-through bullpens, give the spectator as well as Red Wings players a taste of what they'll get at the newer major-league parks.

Rochester's fans took to the new park in large numbers during the first season, filling it to 75% of capacity throughout and selling out numerous dates. Townfolk were also treated to a renovation of their hockey arena at the nearby War Memorial in 1997, making it a big year for this rebounding industrial city.

The Rhinos, an A-League soccer team, shared the field with the Red Wings for a number of seasons, but they get their own field in 2005.

It's worth taking a look at Frontier Field, but plan to arrive early if you want a good parking space.
---
Return to the Stadiums page
Return to Charlie's home page
E-mail: charlies.ballparks@verizon.net
---
Site and images Copyright © 1997, 2004 Charles O'Reilly. All rights reserved.
This page updated 4-Jul-2015