Chronological Tour: Stop 341

Citi Field
---
| | | |
| --- | --- | --- |
| The entrance rotunda to Citi Field, Jun-2009. | The ball field and seating bowl, from the right-field bleacher porch. | From the next-to-last row of the upper deck, a view as close as from the lower boxes of the upper deck at Shea. This photo is from Mar-2009. |
---
Quick Facts:
Location: Roosevelt Avenue at 126 Street, Flushing (Queens), N.Y. (map it using Google Maps)
Opened: 2009
Home team: New York Mets, National League (2009-present)
Capacity: 45,000
Rating:




4 baseballs
---
Citi Field opened 29-Mar-2009, a cloudy day featuring occasional drizzle and fog, with a college baseball game between Georgetown and St. Johnís. Georgetown was the home team despite St. Johnís being in the backyard of this park because the entire series had been scheduled for Washington, D.C.

The first base hit in park history came at 1:19 in the afternoon, when Hoyas shortstop Tom Elliott singled to center off Red Storm starter Brendan Lobban with one out in the home first inning. Georgetown catcher Greg Pustizzi knocked in the first run in the history of the park in the second inning, with a single to left scoring first baseman Dan Capeless. An inning later, Sean Lamont followed with his ninth home run of the season and the first ever at Citi Field, a solo shot to left.

As I arrived at the ballpark, I tried to figure out what was different, in comparison with the now-demolished Shea Stadium:

1) The old scoreboard was gone. That thing was a classic. In its place are two large matrix boards, both of which usually display the score, and I think it's rather redundant for them to be as close to each other as they are. Then again, much of the other information differs between the boards.

2) The simple outfield wall is gone, replaced by an irregular monstrosity that could be at home in any number of other MLB parks of recent vintage. At the college game, the distance markers were missing, but they were in place by the time I got there in June for a Met game.

3) The out-of-town scoreboards, which used to flank the main scoreboard at Shea, are now mounted atop the left-field bleacher. They show the runners on base and the number of outs, as at many new ballparks. At the college game, the dot for which team was batting was missing; again, it was fixed when I saw a Met game.

4) There arenít too many escalators in this building. Shea had them all over the place. Again, though, a lot of the new parks rely on stairwells. Iím sure design engineers have concluded that this is a more efficient way to move people into and out of the park, but the walk from the upper deck to street level was excruciatingly long after a crowded MLB game.

5) The multicolored seats are gone. Instead of a different color for each seating level, which I admit is so 20th century, Citi Fieldís seats are forest green. Green is probably the most common color for stadium seats nationwide, but itís not a Mets color. They could have done just as well with royal blue. To its credit, the tread (room between seating rows) here is much wider than at the old park.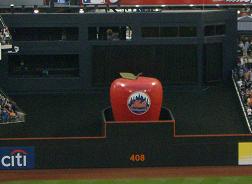 Most importantly, though, Shea was missing. This place doesnít look anything like Shea Stadium, and thatís certainly deliberate. It even has a new home-run apple (the old one, originally inside the park near street level just inside the bullpen entrance gate, is now in the plaza outside the home plate entrance). They seem to have incorporated design features from many parks, old and new, into this park. The main entranceway, the Jackie Robinson Rotunda, is modeled after the home-plate entrance to Ebbets Field. The bullpens are adjacent to each other in right-center field, copying several new parks, and they jut out into the outfield, creating a short porch that pays inadvertent tribute to Kinerís Korner at Forbes Field (Hall of Famer Ralph Kiner went on to be a Mets broadcaster for over 40 years).
I ran into an old friend and Shea denizen in the eighth inning, and he turned around, looked at the pile of rubble that remained of Shea (and which was gone by opening day), and said, ďSo much of my childhood ... itís gone now.Ē Am I that emotional about not having Shea? Hardly. And the commute to this park is exactly the same as the commute to Shea. The look is different, but the feel is similar because they put this park in the same place as the old one, give or take 600 feet.
For the 2012 season, the Mets adjusted the outfield walls, shortening some of the distances and fence heights in order to make it a little easier home run park. The field had gained a reputation as a pitcherís park in its first three seasons.
In September 2017, a three-game Tampa Bay Rays series against the New York Yankees was relocated to Citi Field while St. Petersburg dealt with the aftermath of Hurricane Irma, a powerful storm that impacted nearly all of the Sunshine State.
Getting to the Game
One benefit of Citi Field (and of Shea Stadium before it) is its proximity to major transit arteries. Despite being in an Outer Borough, this is an easy park to get to.

The stadium is on the northern edge of Flushing Meadows-Corona Park, which has had service on the IRT Flushing line (NYC Subway No. 7 train, Willets Point Boulevard station) and the Long Island Rail Road since at least the late 1930s. Flushing Meadow was home to Worldís Fair expositions in 1939-40 and 1964-65, and Shea opened in conjunction with the later event. The park is 30 minutes from Times Square on the subway and less than 15 minutes from Penn Station on the LIRR.

In addition, the Grand Central Parkway runs right past the park, and it is also close to the intersection of the Van Wyck and Whitestone expressways. There are sufficient parking lots, which arenít cheap; there is also limited street parking in the neighborhood to the west of the Grand Central Parkway and you can walk to the stadium on Roosevelt Avenue.
Watching the Game
Itís not unique to Citi Field, but the dayís lineup for the Mets is posted on the concourse in baseball-card-style photos directly behind home plate, seen by fans who enter through the Jackie Robinson Rotunda. At least one of the team lineups, the one for the team at bat, is generally posted on one of the outfield video boards throughout the game; both lineups are frequently displayed. The boards otherwise show photos and statistics for the batter and pitcher when they are not showing commercial announcements.

Field views are good here from just about anywhere in the park, including most of the concourse area. The only exceptions are directly behind the plate, where club areas on both the lower and upper decks obscure views from the downstairs rotunda entry area and the upstairs food court.
Enjoying the Game
As at most Major League Baseball venues, the game is the thing. There are a few in-game promotions, like the video board hat shuffle, but they are limited. Music is about as loud as in any other park; the Mets have also employed an organist on rare occasions, and some organ selections have been canned as well. The public address announcer is efficient and not bombastic.

The mascot, Mr. Met, is instantly recognizable: nothing more than a big baseball head. This simplicity has endeared Mr. Met to generations of fans. These days, he typically appears during a T-shirt toss after the fifth inning and during the seventh-inning stretch. (The Cincinnati Reds have a similarly simple mascot.)

Concessions are varied, especially on the main concourse, and priced in line with most MLB venues, which is to say overpriced but not necessarily outrageous. Expect to pay premium prices for premium items at specialty stands like Brooklyn Burger and Shake Shack.

The stadium is not in a neighborhood, so there are no outside dining options surrounding the park, but mass transit (above) makes it simple to enjoy a pre-game meal in midtown Manhattan and still make it to the game. This being New York, there are also numerous eateries in the neighborhoods along the No. 7 subway line.
---
2007 construction photos: Rotunda | From Shea
2008 construction photos: Rotunda | From Shea
---
Game #
Date
League
Level
Result
55
Sun 29-Mar-2009
Big East
Div I
GEORGETOWN 6, St. Johnís 4
991
Fri 19-Jun-2009
National *
MLB
NY METS 5, Tampa Bay 3
1030
Fri 4-Sep-2009
National
MLB
NY METS 6, Chi Cubs 2
1042
Fri 18-Sep-2009
National
MLB
Washington 6, NY METS 5
1043
Sun 20-Sep-2009
National
MLB
NY METS 6, Washington 2
1044
Mon 21-Sep-2009
National
MLB
Atlanta 11, NY METS 3
1102
Wed 15-Sep-2010
National
MLB
NY METS 8, Pittsburgh 7
1105
Sun 19-Sep-2010
National
MLB
Atlanta 6, NY METS 3
1108
Wed 29-Sep-2010
National
MLB
Miilwaukee 8, NY METS 7, 1st
1109
Wed 29-Sep-2010
National
MLB
Miilwaukee 3, NY METS 1, 2d
1110
Sat 2-Oct-2010
National
MLB
NY METS 7, Washington 2
1112
Sun 3-Oct-2010
National
MLB
Washington 2, NY METS 1, 14 inn
1115
Sun 24-Apr-2011
National
MLB
NY METS 8, Arizona 4
1166
Thu 8-Sep-2011
National
MLB
Atlanta 6, NY METS 5, 1st
1167
Thu 8-Sep-2011
National
MLB
Atlanta 5, NY METS 1, 2d
1171
Sun 11-Sep-2011
National
MLB
Chi Cubs 10, NY METS 6, 11 inn
1178
Mon 26-Sep-2011
National
MLB
Cincinnati 6, NY METS 5
1182
Sun 8-Apr-2012
National
MLB
NY METS 7, Atlanta 5
1238
Tue 11-Sep-2012
National
MLB
Washington 5, NY METS 3
1242
Mon 17-Sep-2012
National
MLB
Philadelphia 3, NY METS 1
1244
Fri 21-Sep-2012
National
MLB
NY METS 7, Miami 3
1246
Tue 25-Sep-2012
National
MLB
Pittsburgh 10, NY METS 6
1254
Thu 4-Jul-2013
National
MLB
Arizona 5, NY METS 4, 15 inn
1294
Mon 9-Sep-2013
National
MLB
Washington 9, NY METS 0
1295
Fri 13-Sep-2013
National
MLB
NY METS 4, Miami 3
1297
Wed 18-Sep-2013
National
MLB
NY METS 5, San Francisco 4
1302
Mon 31-Mar-2014
National
MLB
Washington 9, NY METS 7, 10 inn
1305
Sun 20-Apr-2014
National
MLB
NY METS 4, Atlanta 3, 14 inn
1362
Tue 9-Sep-2014
National
MLB
NY METS 2, Colorado 0
1364
Mon 15-Sep-2014
National
MLB
Miami 6, NY METS 5
1365
Wed 17-Sep-2014
National
MLB
Miami 4, NY METS 3
1386
Fri 24-Jul-2015
National
MLB
LA Dodgers 7, NY METS 2
1437
Mon 14-Sep-2015
National
MLB
NY METS 4, Miami 3
1438
Wed 16-Sep-2015
National
MLB
Miami 6, NY METS 0
1442
Sun 20-Sep-2015
National *
MLB
NY Yankees 11, NY METS 2
1443
Wed 23-Sep-2015
National
MLB
Atlanta 6, NY METS 3
1449
Sun 4-Oct-2015
National
MLB
NY METS 1, Washington 0
1450
Sat 31-Oct-2015
National *
MLB
Kansas City 5, NY METS 3
1451
Fri 8-Apr-2016
National
MLB
NY METS 7, Philadelphia 2
1452
Tue 3-May-2016
National
MLB
Atlanta 3, NY METS 0
1464
Mon 4-Jul-2016
National
MLB
NY METS 8, Miami 6
1466
Wed 27-Jul-2016
National
MLB
St Louis 5, NY METS 4
1469
Mon 1-Aug-2016
National *
MLB
NY Yankees 6, NY METS 5, 10 inn
1478
Wed 10-Aug-2016
National
MLB
Arizona 3, NY METS 2, 12 inn
1480
Sat 13-Aug-2016
National
MLB
NY METS 3, San Diego 2, 11 inn
1524
Sun 18-Sep-2016
National *
MLB
NY METS 3, Minnesota 2
1525
Wed 21-Sep-2016
National
MLB
Atlanta 4, NY METS 3
1529
Sun 25-Sep-2016
National
MLB
NY METS 17, Philadelphia 0
1552
Mon 29-May-2017
National
MLB
NY METS 4, Milwaukee 2
1610
Mon 11-Sep-2017
American
MLB
NY Yankees 5, TAMPA BAY 1
1618
Mon 25-Sep-2017
National
MLB
Atlanta 9, NY METS 2, 1st
1619
Mon 25-Sep-2017
National
MLB
NY METS 3, Atlanta 2, 2d
* Interleague play.
Return to the Stadiums page
Return to Charlieís home page
E-mail: charlies.ballparks@verizon.net
---
Site and images Copyright © 2007-09 Charles OíReilly. All rights reserved.
This page updated 25-Sep-2017