Chronological Tour: Stop 2

The House That Ruth Built
---
| | | |
| --- | --- | --- |
| Gate 4 (home plate) entrance to Yankee Stadium, Sep-2007. | A view from the top of the left-field grandstand, Aug-2008. | The classic view from the upper deck of Yankee Stadium includes the Bronx County Courthouse. |
---
Quick Facts:
Location: 161 Street & River Avenue, Bronx, N.Y.
Opened: 1923 (renovated 1976)
Closed: 2008
Demolished: 2010
Home team: New York Yankees, American League (1923-73, 1976-2008);

New York Yankees, American Football League (1926), National Football League (1927-28); New York Yankees, American Football League (1936-37); New York Yankees (1940), Americans (1941), American Football League; New York Yankees, All-America Football Conference (1946-49), New York Yanks, National Football League (1950-51); New York Giants, National Football League (1956-73); Army Black Knights (off-site games, 1925-69)

;

New York Skyliners, United Soccer Association (1967-68); New York Generals, National Pro Soccer Association (1967), North American Soccer League (1968); New York Cosmos, North American Soccer League (1971, 1976)

Capacity: 57,545
Rating:




4 baseballs
---
There's still a sense of history about Yankee Stadium.

This is still the House That Ruth Built, the outfield Joe DiMaggio and Mickey Mantle roamed, the pitcher's mound where Don Larsen fired a perfect game in the 1956 World Series against Brooklyn.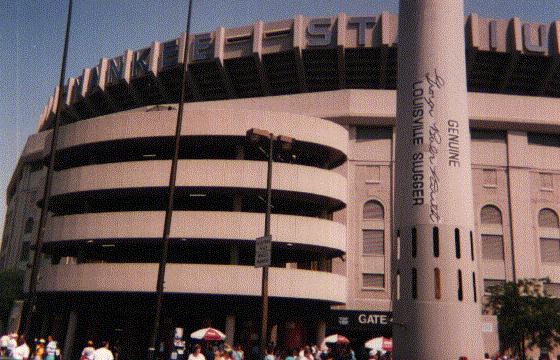 The exhaust tower shaped like a Louisville Slugger
in front of gate 4, Aug-1992.

But it was also a modernized facility. The biggest upgrade in 1976 was to eliminate the pillars that obstructed many of the views for 51 years (the Yanks played at Shea Stadium while the renovations took place in 1974 and 1975, and also played a home game at Shea when a support beam in the seating bowl broke loose during the late 1990s).

However, several other features were altered, including a significant shortening of the outfield fence (it's been shortened more since), and moving the flag pole and monuments from in play 467 feet from the plate in dead center to an area behind the fence in left-center. Upon seeing the revamped park for the first time, former shortstop Phil Rizzuto remarked, "The bullpen used to be in the bullpen." Both wound up behind Monument Park, in the old power alley. Last, but not least for many fans, the old ornamental frieze was eliminated, with an ersatz one put in place only in the outfield.

Still, there was something about visiting the Big Ballyard in the Bronx, home of the most successful franchise in the majors, a club that won the World Series 26 times during its 84-season tenure at this venerable park.

A plan to build a new Yankee Stadium in nearby Macombs Dam Park was postponed in early 2002 by New York mayor Michael Bloomberg in the wake of a budget crisis resulting partly from expenses relating to the 11-Sep-2001 terrorist attacks. However, the new park was approved in 2005; ground broke in 2006 in the city park, across 161 Street from the current facility. The new Yankee Stadium opened in 2009.
---
| Game # | Date | League | Level | Result |
| --- | --- | --- | --- | --- |
| 12 | Fri 9-Jul-1976 | American | MLB | NY YANKEES 2, Chi White Sox 1 |
| 15 | Tue 2-Sep-1980 | American | MLB | NY YANKEES 6, Oakland 1 |
| 45 | Tue 12-Sep-1991 | American | MLB | Boston 7, NY YANKEES 2 |
| 49 | Sun 6-Oct-1991 | American | MLB | NY YANKEES 7, Cleveland 4 |
| 72 | Sun 23-Aug-1992 | American | MLB | California 7, NY YANKEES 3, 10 inn |
| 75 | Fri 4-Sep-1992 | American | MLB | NY YANKEES 6, Texas 3 |
| 77 | Sun 13-Sep-1992 | American | MLB | Kansas City 3, NY YANKEES 0 |
| 79 | Sun 27-Sep-1992 | American | MLB | Toronto 12, NY YANKEES 2 |
| 84 | Mon 28-Jun-1993 | American | MLB | NY YANKEES 8, Detroit 2 |
| 102 | Thu 2-Sep-1993 | American | MLB | NY YANKEES 7, Chi White Sox 1 |
| 103 | Fri 3-Sep-1993 | American | MLB | Cleveland 7, NY YANKEES 3 |
| 104 | Sat 4-Sep-1993 | American | MLB | NY YANKEES 4, Cleveland 0 |
| 112 | Fri 17-Sep-1993 | American | MLB | NY YANKEES 5, Boston 4 |
| 115 | Wed 22-Sep-1993 | American | MLB | Minnesota 5, NY YANKEES 2 |
| 120 | Fri 1-Oct-1993 | American | MLB | NY YANKEES 9, Detroit 6 |
| 121 | Sun 3-Oct-1993 | American | MLB | NY YANKEES 2, Detroit 1 |
| 122 | Sun 10-Apr-1994 | American | MLB | Detroit 8, NY YANKEES 3 |
| 137 | Fri 29-Jul-1994 | American | MLB | NY YANKEES 5, Cleveland 2 |
| 138 | Sun 31-Jul-1994 | American | MLB | NY YANKEES 4, Cleveland 1 |
| 191 | Sun 24-Sep-1995 | American | MLB | Detroit 8, NY YANKEES 3 |
| 197 | Thu 4-Jul-1996 | American | MLB | NY YANKEES 4, Milwaukee 1 |
| 231 | Sat 7-Sep-1996 | American | MLB | Toronto 3, NY YANKEES 2 |
| 232 | Sun 8-Sep-1996 | American | MLB | Toronto 4, NY YANKEES 2 |
| 237 | Wed 18-Sep-1996 | American | MLB | NY YANKEES 3, Baltimore 2, 10 inn |
| 238 | Thu 19-Sep-1996 | American | MLB | NY YANKEES 9, Baltimore 3, 1st |
| 239 | Thu 19-Sep-1996 | American | MLB | Baltimore 10, NY YANKEES 9, 2d |
| 241 | Sun 22-Sep-1996 | American | MLB | NY YANKEES 4, Boston 3 |
| 242 | Wed 25-Sep-1996 | American | MLB | NY YANKEES 19, Milwaukee 2, 1st |
| 243 | Wed 25-Sep-1996 | American | MLB | NY YANKEES 6, Milwaukee 2, 2d |
| 253 | Sun 13-Jul-1997 | American | MLB | Detroit 3, NY YANKEES 1 |
| 294 | Tue 16-Sep-1997 | American | MLB | NY YANKEES 2, Boston 0, 1st |
| 295 | Tue 16-Sep-1997 | American | MLB | NY YANKEES 4, Boston 3, 2d |
| 296 | Fri 19-Sep-1997 | American | MLB | Toronto 3, NY YANKEES 0 |
| 297 | Sun 21-Sep-1997 | American | MLB | NY YANKEES 5, Toronto 4, 10 inn |
| 349 | Mon 21-Sep-1998 | American | MLB | Cleveland 4, NY YANKEES 1 |
| 351 | Sun 27-Sep-1998 | American | MLB | NY YANKEES 8, Tampa Bay 3 |
| 354 | Sun 11-Apr-1999 | American | MLB | NY YANKEES 11, Detroit 2 |
| 384 | Tue 31-Aug-1999 | American | MLB | Oakland 3, NY YANKEES 2, 11 inn |
| 398 | Wed 22-Sep-1999 | American | MLB | NY YANKEES 5, Chi White Sox 4 |
| 446 | Wed 13-Sep-2000 | American | MLB | NY YANKEES 3, Toronto 2 |
| 449 | Mon 25-Sep-2000 | American | MLB | Detroit 15, NY YANKEES 4 |
| 497 | Tue 28-Aug-2001 | American | MLB | NY YANKEES 4, Toronto 0 |
| 578 | Wed 25-Sep-2002 | American | MLB | NY YANKEES 4, Tampa Bay 3 |
| 728 | Mon 20-Sep-2004 | American | MLB | Toronto 6, NY YANKEES 3 |
| 729 | Tue 21-Sep-2004 | American | MLB | NY YANKEES 5, Toronto 3 |
| 733 | Wed 6-Oct-2004 | American | MLB | NY YANKEES 7, Minnesota 6, 12 inn |
| 799 | Wed 21-Sep-2005 | American | MLB | NY YANKEES 2, Baltimore 1 |
| 858 | Wed 27-Sep-2006 | American | MLB | NY YANKEES 16, Baltimore 5 |
| 911 | Wed 19-Sep-2007 | American | MLB | NY YANKEES 2, Baltimore 1 |
| 913 | Sat 22-Sep-2007 | American | MLB | NY YANKEES 12, Toronto 11, 10 inn |
| 961 | Fri 29-Aug-2008 | American | MLB | NY YANKEES 2, Toronto 1 |
Return to the Stadiums page
Return to Charlie's home page
E-mail: charlies.ballparks@verizon.net
---
Site and images Copyright © 1992, 2007, 2008 Charles O'Reilly. All rights reserved.
This page updated 13-Mar-2010