Hinchliffe Stadium
---
| | | |
| --- | --- | --- |
| One entrance to Hinchliffe Stadium, Jan-2004. | A look at the first-base (end zone) seating bowl and concession stand. | This behind-the-plate photo shows the baseball configuration in the 1970s and 1980s. |
---
Quick Facts:
Location: Liberty and Maple streets, Paterson, N.J.
Opened: 1932
Home team: New York Black Yankees, Negro National League (1936-37, 1939-45)
Capacity: 10,000 (approx.)
---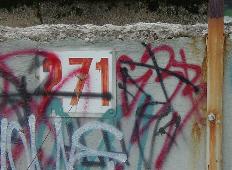 The distance marker down the right-field line.

Hinchliffe Stadium was opened in 1932 as a schools stadium for the City of Paterson, primarily serving the athletic programs of Eastside and Central (now J.F. Kennedy) High Schools. However, other events frequently took place at the oval, including semi-professional baseball and football and even auto racing.

For baseball, the field was aligned with home plate in a corner of the horseshoe, facing south. The left-field fence was 392 feet from home plate, and a marker in left-center field (not at the deepest part of the stadium) reads 461 feet, but the right-field foul pole is just 271 feet from the plate. This was apparently not the original orientation; old photos show home plate where center field is in the current configuration, which would still make right field a short porch.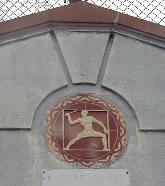 Ornamental work in the stadium façade.

In 1936, the New York Black Yankees took up residence at Hinchliffe Stadium, playing in the second Negro National League. The league folded after that season, but the Black Yankees continued on and played their 1937 season as part of the third Negro National League. The club played at Triborough Stadium in New York (on Randalls Island, under the Triborough Bridge) in 1938 but then moved back to Hinchliffe for the next seven seasons.

The Paterson public school system installed artificial turf in the 1970s, and events continued at the facility until the early 1990s. However, when I returned to take these photos in early 2004, the turf had been ripped up in many spots, and trees were growing through the stands. It was a shame to see such a great facility in this state of disrepair. Some of the site had been cleaned up and whitewashed by the time I made a return visit in 2014.

Historic preservation funds have been applied for, and progress has been made, but there is no telling when Hinchliffe Stadium might be restored to its former glory.
---
Return to the Stadiums page
Return to Charlie's home page
E-mail: charliesballparks@verizon.net
---
Site and images Copyright © 2004 Charles O'Reilly. All rights reserved.
This page updated 10-Sep-2015