Chronological Tour: Stop 161

The Inland Shore
---
| | | |
| --- | --- | --- |
| Entrance to Ernie Shore Field, Aug-1999. | A look in at the seating area. | Just out of view here is the carousel sitting down the right-field line. |
---
Quick Facts: Rating:




4 baseballs
---
The city of Winston-Salem built this park in 1956, putting it next to Groves Stadium, where the Wake Forest Demon Deacons play their home football games (the college moved from the town of Wake Forest that year). Itís dedicated to Ernie Shore, the Red Sox pitcher who came from East Bend, northwest of Winston (which merged with Salem in 1913). Shore is renowned for a 1917 game in which he picked off a runner walked by Babe Ruth and then retired the last 26 batters for a combined no-hitter.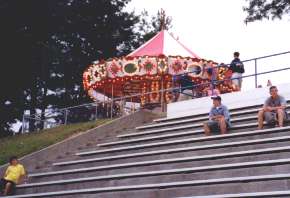 The carousel at the top of the right-field grandstand.
The concourse area of the park got an extensive renovation in 1993. The seating area of the park features stadium seats, most of which (except for the lower boxes) are under a roof. Beyond the roof, bench seating fans out along the foul lines. The renovated concourse (above all the seats) features new food stands as well as a carousel down the right-field line which actually operates and takes customers during the game.
I did have a bit of a problem with the public-address announcer, who didnít clarify the fielding changes as well as he could have during the game. On the plus side, I just missed the staff closing the souvenir stand, but the folks in the team office were able to help me out.
A new downtown ballpark for the Winston-Salem club was built during the 2008 and 2009 seasons. Ernie Shore Field was sold to Wake Forest University as part of the deal. The Warthogs changed their name for the 2009 season anticipating completion of the park, but the Dash played the season at Ernie Shore Field, working around the university schedule.
---
Return to the Stadiums page
Return to Charlieís home page
E-mail: charlies.ballparks@verizon.net
---
Site and images Copyright © 1999 Charles OíReilly. All rights reserved.
This page updated 9-Aug-2010