Chronological Tour: Stop 44

Smith-Wills Stadium
---
| | | |
| --- | --- | --- |
| The exterior of Smith-Wills Stadium, Jul-2015. | The seating bowl, as seen from beyond the outfield. | The woods are only broken up by light towers and the scoreboard (and the Marlboro Man - remember him?) in a photo from Aug-1993. |
---
Quick Facts:
Location: Cool Papa Bell Drive off Lakeland Drive, Jackson, Miss. (map it using Google Maps)
Opened: 1975
Home team: Jackson Mets (1975-90), Generals (1991-99), Texas League; Jackson DiamondKats (2000), Senators (2001-05), Texas-Louisiana / Central League; Belhaven Blazers, Southern States Athletic Conference (NAIA)
Capacity: 5,200
Rating:


2 baseballs
---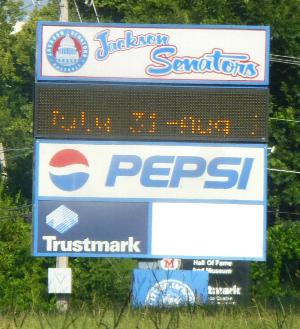 Texas League baseball arrived at Jackson in 1975, when Smith-Wills Stadium opened to host a New York Mets farm club. The team became an Astros affiliate known as the Generals (for Gen. Andrew Jackson, of course; the city's named after him as well) in 1991. The club was purchased by a group led by major league strikeout king Nolan Ryan in 1999, and moved to Round Rock, Texas (north of Austin) for 2000. A team in the independent Texas-Louisiana League moved in that summer, but packed it in after the Braves moved their Double-A affiliate to a new stadium in nearby Pearl.

The stadium honors two former Jackson athletes lost in the early stages of the Vietnam War: Johnny Smith (1947-66), a Provine High School graduate, and Doug Wills (1944-67), out of Murrah High.

The most notable thing about Smith-Wills Stadium for me was nothing about its architecture, location, or amenities. The night I got to the park in 1993, former big league hurler Catfish Hunter made a promotional appearance at the yard. That helped enhance the Monday-evening crowd.

Several colleges have used the site as their home field for both baseball and football, after the facility received artificial turf following the departure of the Senators. In addition, state high school playoff games are often contested here. The stadium is across the parking lot from the Mississippi Sports Hall of Fame and Museum and next to a city park. The entire tract was redeveloped from a landfill in the early 1970s.
---
Return to the Stadiums page
Return to Charlie's home page
E-mail: charlies.ballparks@verizon.net
---
Site and images Copyright © 1993, 2015 Charles O'Reilly. All rights reserved.
This page updated 5-Aug-2015