Chronological Tour: Stop 140

Where Fun Was Good
---
| | | |
| --- | --- | --- |
| As of Aug-1998, you know you're looking at fun the moment you show up. | Sunset at Midway, Aug-2010. | From the main grandstand, the view is of the train tracks and industrial district. |
---
Quick Facts:
Location: Energy Park Drive (off North Snelling Avenue), Saint Paul, Minn.
Opened: 1982 as Municipal Stadium
Additional names: Midway Stadium (1993)
Closed: 2014
Demolished: 2015
Home team: St. Paul Saints, Northern League (1993-2005), American Association (2006-14)
Capacity: 6,329
Rating:



3 baseballs
---
I'm not sure whether it's just a St. Paul thing or the philosophy of the Northern League, but the folks at Midway Stadium took the motto "Fun Is Good" to the extreme.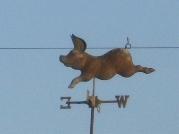 Midway Stadium was an older park sandwiched midway between active train yards. Actually, the name came from the original Midway Stadium, where the St. Paul Saints played from 1957-60 prior to the relocation of the Washington Senators to nearby Bloomington as the Minnesota Twins.
Stadium seating wasn't the most comfortable in the world. Additional bleacher seating was provided along both base lines, and a post-up out-of-town scoreboard stood in right field, complementing the electric scoreboard in left.
The stadium staff and the public address announcer worked hard (too hard?) to make everything fun, going so far as to berate patrons who insist on not removing their ties after work. And every time a train passed by on the track running past left field, the announcer was obligated to say the word "Train". The old message board (in 1998) then displayed "Choo choo ... choo choo"; this was no longer the case with the modern message center that saw the park through its last days in 2014.
There was a wacky promotion every night; the night I visited, in August 1998, was Backwards Night, on which the St. Paul players wore special backwards jerseys (number on the front, logo and buttons on the back) and the announcer gave many of his announcements in reverse word order. But it was all in the spirit of fun, and it kept people flocking to the park, which they continued to do even though the Twins have a new ballpark 11 miles away in Minneapolis.
The Saints are now trying to transfer the Midway Stadium vibe, as the team has moved to a new ballpark at Fifth and Broadway in the Lowertown section of Saint Paul for the 2015 season. Midway Stadium was demolished in late August 2015, the land reverting to industrial use.
---
Return to the Stadiums page
Return to Charlie's home page
E-mail: charliesballparks@verizon.net
---
Site and images Copyright © 1998, 2010 Charles O'Reilly. All rights reserved.
This page updated 10-Sep-2015