Chronological Tour: Stop 343

Oestrike Stadium
---
| | | |
| --- | --- | --- |
| Oestrike Stadium on the Eastern Michigan University campus, Jul-2009. | The seating bowl, from down the left-field line. | A look from behind home plate. |
---
Quick Facts:
Location: Eastern Michigan University, Huron River Road, Ypsilanti, Mich.
Opened: 1971
Home team: Midwest Sliders of Ypsilanti (2009), Oakland County Cruisers (first half of 2010), Frontier League; Eastern Michigan University Eagles, Mid-America Conference
Capacity: 2,000
Rating:


2 baseballs
---
The baseball facility at Eastern Michigan University was dedicated in 1988 to longtime head coach Ron Oestrike, who still shows up at the school's games and has even made a few appearances at games of the Midwest Sliders of Ypsilanti, a team that began its Frontier League life as the Slippery Rock Sliders in 2007 and then played as a road team in 2008.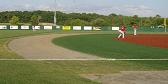 This park is very simply appointed, with metal bleachers under a roof. The infield received artificial turf in 2007, but the turf did not quite reach out as far as room was cut out for it, leaving a dirt track between the end of the turf and the beginning of the outfield grass. An EMU source said that the condition was slated to be remedied after the 2009 season.
Meanwhile, as of July 2009, the Sliders, who promised to become the Oakland County Cruisers for 2010, had not yet broken ground on their new park in Waterford. They planned to play no more than the first half of the 2010 season in Ypsilanti, although they did adopt a logo with a prominent Y in it in honor of their temporary location. Plans to open the Diamond at the Summit eventually fell through, and the Sliders are no more.
---
Return to the Stadiums page
Return to Charlie's home page
E-mail: charliesballparks@verizon.net
---
Site and images Copyright © 2009 Charles O'Reilly. All rights reserved.
This page updated 19-Aug-2011