Veterans Memorial Park
---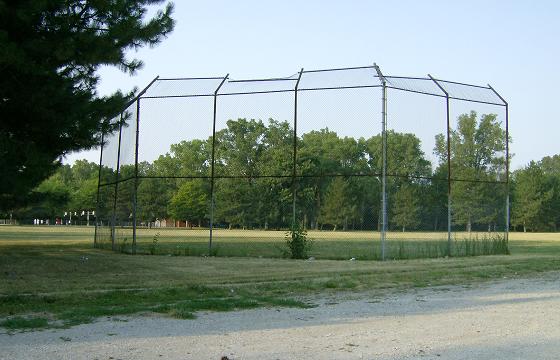 The backstop at Veterans Memorial Park, Aug-2007.
---
Quick Facts:
Location: Holland and East 20th Streets, Saginaw, Mich.
Opened: About 1948
Home team: Saginaw Bears (1948-50), Jacks (1951), Central League
---
This backstop is all that remains for baseball in Veterans Memorial Park, on the east edge of Saginaw. The Saginaw Bears and Jacks played here for four seasons, never finishing higher than third place in the Class A Central League.

At one time, a regular grandstand existed here; it may have been further south, toward the corner of East Holland Avenue (M-46). The existing backstop is two blocks north.
---
Return to the Stadiums page
Return to Charlie's home page
E-mail: charliesballparks@verizon.net
---
Site and images Copyright © 2007 Charles O'Reilly. All rights reserved.
This page updated 6-Aug-2007