Chronological Tour: Stop 175

Tigerís Replacement
---
| | | |
| --- | --- | --- |
| Meet me at the Tiger. This is it, by the first-base gate, Jul-2009. | The split-level upper deck is just one feature of the park. This and the next photo are from Jul-2000. | Statues of Tigers Hall of Famers flank the outfield berm, which contains fountains. |
---
Quick Facts:
Location: Montcalm and John R streets, Detroit, Mich. (map it using Google Maps)
Opened: 2000
Home team: Detroit Tigers, American League (2000-present)
Capacity: 41,255 (2009)
Rating:




4 baseballs
---
Comerica Park (named after a bank Ė I guess proprietors looking for someone to buy naming rights go to banks for the same reason Willie Sutton robbed them: ícause thatís where the money is) fits into the mold of ballpark as amusement park. At least at Comerica, though, the amusements arenít as obtrusive as they are at Turner Field (or the photos Iíve seen of the Disneyfied Anaheim Stadium). Itís very possible to sit here, watch the game, and not be distracted.

The stadium is asymmetrical, with the left field alley about 30 feet deeper than the right-field alley (the difference is 15 feet at the foul lines). They stretch out to 420 feet in the deepest corners before Adams Avenue pinches it in; straightaway center is only about 410, I suppose. Itís the largest yard thatís been built recently. Homers are still more probable to right field than to left, but even those wonít be as common as they were with the overhang at Tiger Stadium. There were no home runs in the first game I saw here. I suppose a home run would prompt a display from the fountains in center field (which did start up during the 7th inning stretch).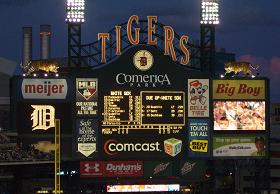 Also along the outfield (inside the ballpark, above the left field bleachers) are statues of Tiger greats from Ty Cobb to Al Kaline. Alas, from behind the plate they donít stand out nearly as much as the McDonaldís restaurant and the Pepsi Pavilion in right field. Welcome to corporate America. The amusement park (I wasnít kidding; it even has a Ferris wheel) is located under the upper deck behind first base. It, too, was sponsored (by Comcast, the cable company) when I first visited, but it is no longer.
Still, I found Comerica Park a quite comfortable place to watch a ball game. Ticket prices are a little bit high, and concessions are at the major league level, but I thought they did a respectable job. Perhaps the biggest problem with the place is that itís not Tiger Stadium.
In the top of the 9th inning of the game I saw in 2000 (the first half of a day-night doubleheader), an automatic alarm sounded. ďAttention! Please walk to the nearest exit.Ē I suspected it was sounded deliberately, to help clear the park a little faster before the 7:05 game (which I didnít stay for). About half the remaining crowd walked out.
---
Return to the Stadiums page
Return to Charlieís home page
E-mail: charlies.ballparks@verizon.net
---
Site and images Copyright © 2000, 2009 Charles OíReilly. All rights reserved.
This page updated 2-Sep-2017