The Ball Park
---
| | | |
| --- | --- | --- |
| Exterior of The Ball Park in Old Orchard Beach, May-2010. | The seating bowl, as seen during an amateur game. | The view from the camera platform behind home plate. |
---
Quick Facts:
Location: Off Saco Avenue (ME 5) at Cummings Boulevard, Old Orchard Beach, Me.
Opened: 1982 (approx.)
Home team: Maine Guides (1984-87), Phillies (1988), International League
---
Old Orchard Beach is one of Maine's most popular summer tourist attractions. Officials here decided that baseball would go along with the other summer activities, and so this park, unostentatiously called The Ball Park, arose to host the Maine Guides of the International League.

As they have discovered in several other resort towns, however, baseball doesn't necessarily fit into the summer vacationer's plans. The Guides drew unspectacularly before moving to Lackawanna Co., Pa., leaving the Pine Tree State without pro ball until the Sea Dogs arrived in Portland, about ten miles north of here, in 1994.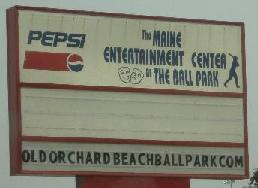 When I first arrived in 2003, The Ball Park had gone to seed. It is located directly behind the police station and the town's high school and athletic complex, but it had not been cared for, apparently in years. A marquee outside the padlocked field entrance bears the grandiose designation "Maine Entertainment and Sports Complex at The Ball Park", as the park did see use for several other entertainment events in the first few years after the Guides left. But when I saw the park, it was overgrown, with weeds and trees starting to grow up through the grandstand.
By 2009, a group of locals took an interest in renovating The Ball Park and bringing it back to life as a baseball field. Their fund-raising efforts succeeded, and the park reopened in 2010 with a college baseball tournament. When I revisited the park later that May, the field was being used for an over-25 league game. While the camera stand behind the plate was usable, the entire "upper deck" (above the cross aisle) was blocked off. The old electric scoreboard was also long gone, but there was a manual scoreboard down the first-base line.
Work continues to restore the upper seating bowl and the press box and suite areas, all of which are likely to be as unostentatious as the facility's name.
---
The Ball Park, as it appeared from the outside in 2003.
---
Return to the Stadiums page
Return to Charlie's home page
E-mail: charlies.ballparks@verizon.net
---
Site and images Copyright © 2003, 2010 Charles O'Reilly. All rights reserved.
This page updated 31-Jul-2011