A Park Built by a King
---
| | | |
| --- | --- | --- |
| Entryway to Shawn T. Mansfield Stadium, Jul-2011. | The seating bowl, as seen from the first-base line. | The view from directly behind home plate. |
---
Quick Facts:
Location: 13 Street off Hammond Avenue (US 2), Bangor, Me.
Opened: 1992
Home team: Bangor Lumberjacks, Northeast League (one playoff series in 2004); Bangor HS Rams, Pine Tree Conference
---
In 1989, the Bangor West Little League won the Maine 12U state championship and advanced to the regional tournament in Bristol, Conn. Their ride ended after one game in Bristol; that tournament was captured by a team from Trumbull, Conn., which would go on to win the Little League World Series behind the arm of future National Hockey League star Chris Drury.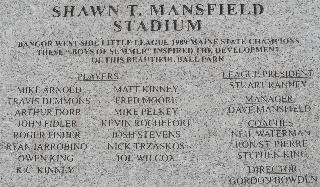 Dave Mansfield managed the Bangor West tournament team that summer. His son, Shawn, was not on the roster even though he was the right age in 1989. Shawn suffered from cerebral palsy and was wheelchair-bound for all of his short life. When he died in 1991 at age 14, the community looked for a suitable way to honor his life as well as his fatherís dedication to Little League.
Fortunately, one of the players on that state championship team was Owen King, whose father, Stephen, helped coach the squad that year. Stephen King, the author of a number of novels that have been turned into successful films, and his wife donated the bulk of the money to build a much-needed regulation-size stadium for high-school and older players. The seed was apparently planted when the Little League team won the title and everyone realized that Bangor didnít have a suitable facility for older players. Shawn T. Mansfield Stadium opened in time for the 1992 high school season and is the home of the Bangor High School and American Legion teams. The park has also hosted the Senior League (16U) World Series of Little League Baseball since 2002.
In 2004, the Bangor Lumberjacks, who played the season at nearby Husson College, were unable to play their playoff series on their home field because Husson needed it for their home football opener. The Lumberjacks arranged to move the series, which they lost to the New Jersey Jackals, to Mansfield Stadium. This is the only professional use this amateur field has ever seen.
Mansfield Stadium does perfectly fine as an amateur park, though it would take work to use it for a professional team year-in and year-out. There is no shade in the ballpark, making summer day games hot (even in Maine), and the concession areas are not easily accessible. These shortcomings do not detract so much from the stadiumís utility for amateur ball.
---
Return to the Stadiums page
Return to Charlieís home page
E-mail: charlies.ballparks@verizon.net
---
Site and images Copyright © 2011 Charles OíReilly. All rights reserved.
This page updated 1-Aug-2011