Chronological Tour: Stop 58

Prince Georgeís Stadium
---
| | | |
| --- | --- | --- |
| Entrance to Prince Georgeís Stadium, Jul-2008. | A fairly typical seating bowl for mid-1990s construction. | The pleasant but unspectacular view from behind the plate. |
---
Quick Facts:
Location: Ballpark Road at Crain Highway (US 301) just off US 50, Bowie, Md. (map it using Google Maps)
Opened: 1994
Home team: Bowie Baysox, Eastern League (1994-present)
Capacity: 10,000
Rating:



3 baseballs
---
Prince Georgeís Stadium was built at about the same time as the facilities in Portland and Trenton in the same league. The club was supposed to begin play at Bowie in 1993, having moved the franchise from Hagerstown, but construction delays forced them to play the entire 1993 season at Baltimoreís Memorial Stadium and two months of the 1994 season at odd sites including the University of Maryland. The stadium was still under construction in the summer of 1994, when I first visited, and I didnít have a chance to return until July 2008.

The exterior looks pristine, and the concourse is sufficient, but there just isnít anything terribly outstanding about this park. Like several built in this time, there is no roof, although the luxury boxes do provide shelter on the concourse. At least the park faces the northeast, so that the stadium structure itself will start providing shade fairly early. Even at that, 1:00 Sunday games are brutal.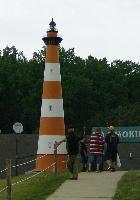 Bowie is 18 miles west of the Chesapeake Bay, but that doesnít stop the team from tapping into the regionís heritage and calling the club the Baysox. There is even a miniature orange and white lighthouse down the first-base line, near the kidsí play area which includes a carousel as well as other activities.
On the flip side, Bowie is less than 20 miles from Washington, and the regionís affluence enables the Baysox to charge the highest ticket prices in the Eastern League. Offsetting that is the availability of free parking in both the main lot and an overflow lot, the free half-size program, and copies of rosters, statistics, and starting lineups available for free at the customer service desk.
With the stadium complete and functional, I raised my rating from two baseballs to three. If it were cheaper to get into the place, I might like it better.
---
Return to the Stadiums page
Return to Charlieís home page
E-mail: charlies.ballparks@verizon.net
---
Site and images Copyright © 1994, 1998 Charles OíReilly. All rights reserved.
This page updated 22-Aug-2015