Chronological Tour: Stop 4

The Pride of the Hub
---
| | | |
| --- | --- | --- |
| An unusual external view of Fenway: from behind the bleachers, Jul-1998. | A look at the main seating bowl from atop the "Green Monster" in left field, Aug-2011. | The expanse of the field from directly behind the plate, Aug-2011. |
---
Quick Facts:
Location: Brookline Avenue at Yawkey Way, southwest of Kenmore Square, Boston, Mass. (map it using Google Maps)
Opened: 1912 (renovated 1934; incremental improvements since)
Home team: Boston Red Sox, American League (1912-present); Boston Braves, National League (1914-15);

Boston Bulldogs, American Football League (1926); Boston Redskins (1936-37), Yanks (1944-48), National Football League; Boston Shamrocks, American Football League (1936-37); Boston Patriots, American Football League (1963-65), National Football League (1966-68)

;

Boston Beacons, North American Soccer League (1968)

Capacity: 33,871
Rating:





5 baseballs
---
Fenway Park, which opened 20-Apr-1912 and (since Tiger Stadium closed at the end of the 1999 season) has enjoyed the longest service among major league parks, is a lot of things. But let me set one thing straight: One thing it is not, at least for a majority of its patrons, is comfortable.

It's located in a part of Boston that makes it inconvenient for all but mass transit (and thank goodness for mass transit). The streets are narrow, and parking is relatively scarce and expensive. And the park itself still contains a lot of dark corridors, narrow tread between seating rows, and old wooden seats. The Red Sox promote the park as "Friendly Fenway", because the only way to cope in these cramped quarters is to be friendly.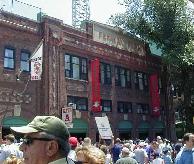 The front of the park, on Yawkey Way.

All this, however, is part of the charm of this band box just across the Massachusetts Turnpike from Kenmore Square (there used to be a Sears, Roebuck store on Kenmore Square – yes, that's how their appliance line got its name). Aside from some sky boxes patched onto the roof behind the plate, and the addition of some second-deck seats and even some seats atop the 37-foot-tall "Green Monster" in left field, the experience of attending a game at Fenway today is little changed from the 1930s.

There is always that left-field wall, a manual scoreboard tucked into its base, which turned green when the advertising signs were painted over in 1947 (there are now monochrome advertisments painted on it). There's the quirky shape of the wall in center, where not only does the fence line take on a strange dimension, but so does the home-run line. There's the low porch in right-center. There's "Pesky's pole" in right field, where an extremely short right-field line shoots out to a deep alley in no time flat. A ball landing fair along that fence can roll forever, as Nomar Garciaparra proved when he dropped one there and beat out an inside-the-park home run when I was in attendance 26-Jul-1998.

There are ghosts here, too. The joy of Carlton Fisk's ball down the line that just stayed fair in 1975, tempered by the one Bucky Dent hit into the screen in 1978. The home run Ted Williams hit on the final swing of his career in 1960. And the heartbreak that lingered for eight decades, since Harry Frazee sold his 29-homer man, Babe Ruth, to the Yankees after the 1919 season, finally cured when the Sox announced they were staying at Fenway for a while rather than succumbing to the pressure to build a new park. They went on to win the championship of Major League Baseball again three times in ten seasons between 2004 and 2013.

It's all there, on a visit to this historic park. Tickets are the most expensive around, thanks to its small capacity, but they're worth every penny.

For a while, they were talking about building a park with identical dimensions, including the Green Monster, but with larger seating capacity and more accommodating to fans and players alike, right across the street. They said it would look like Fenway, and it would play like Fenway – but it wouldn't be Fenway. Fortunately, with the recent expansions, the park is expected to remain intact for the foreseeable future.

The Red Sox held a 100th-anniversary celebration lasting throughout the 2012 season, and the party was well-deserved. If you're a baseball fan, and you haven't made it to the Hub to see this marvel, I urge you: Do whatever you can to get there. You won't be disappointed.
---
The Green Monster in 1996, when it was mostly green.
---
Game #
Date
League
Level
Result
27
Mon 27-Jun-1988
American
MLB
BOSTON 9, Cleveland 5
133
Sat 23-Jul-1994
American
MLB
BOSTON 6, Seattle 5, 1st
134
Sat 23-Jul-1994
American
MLB
Seattle 6, BOSTON 3, 11 inn, 2d
209
Sat 3-Aug-1996
American
MLB
BOSTON 6, Minnesota 3
259
Sun 27-Jul-1997
American
MLB
BOSTON 6, Anaheim 5
316
Sun 26-Jul-1998
American
MLB
BOSTON 6, Toronto 3
397
Sun 19-Sep-1999
American
MLB
BOSTON 7, Detroit 3
410
Sun 9-Jul-2000
American *
MLB
BOSTON 7, Atlanta 2
521
Sat 29-Jun-2002
American *
MLB
Atlanta 2, BOSTON 1
590
Sun 29-Jun-2003
American *
MLB
BOSTON 11, Florida 7
1149
Sat 20-Aug-2011
Eastern
AA
Binghamton 6, PORTLAND 4, 11 inn
1150
Sat 20-Aug-2011
International
AAA
Syracuse 3, PAWTUCKET 1
1304
Fri 18-Apr-2014
American
MLB
Baltimore 8, BOSTON 4
* Interleague play.
Return to the Stadiums page
Return to Charlie's home page
E-mail: charlies.ballparks@verizon.net
---
Site and images Copyright © 1998, 2011 Charles O'Reilly. All rights reserved.
This page updated 12-Feb-2016