Chronological Tour: Stop 113

Decent Idea, Poor Execution
---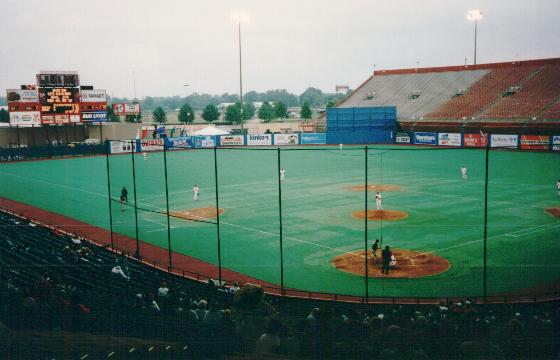 The expansive Cardinal Stadium is way too big for minor league baseball games.
---
Quick Facts:
Location: State Fairgrounds, Louisville, Ky. (map it using Google Maps)
Opened: 1956 (1982 for baseball) as Fairgrounds Stadium
Additional names: Cardinal Stadium (1982)
Closed: 1999 for pro baseball
Home team: Louisville Redbirds, American Association 1982-97; Louisville RiverBats, International League 1998-99; University of Louisville Cardinals, Conference USA (1998-2004)
Capacity: 33,500
Rating:

1 baseball
---
Cardinal Stadium seemed an appropriate enough name for the home of the Louisville Redbirds, then a St. Louis affiliate, when I went there in 1997.

Alas, the name has nothing to do with baseball and everything to do with the University of Louisville, who used the facility as its home football field through 1997.

As a result, the park has a football horseshoe configuration, giving it very strange dimensions for a baseball game (though not as bad as Winnipeg Stadium did). Worse yet, the game is played on artificial turf here.

It seems Cardinal Stadium's ultimate destiny is merely as an exhibition field at the state fairgrounds, as the new baseball-only park has opened for the RiverBats, and the college has opened an upgraded football facility. It won't be a moment too soon.

The University of Louisville baseball team moved into Cardinal Stadium on a temporary basis, starting in 1998, while they awaited the renovation of Parkway Field, an old minor-league facility on the U of L campus. The original plan called for a new stadium to be built around that field, which was built in 1923 but which saw its grandstand razed in 1961. However, it now appears that the Parkway Field project has been abandoned. The Cardinals are playing in a new home called Patterson Field.
---
Return to the Stadiums page
Return to Charlie's home page
E-mail: charlies.ballparks@verizon.net
---
Site and images Copyright © 1997 Charles O'Reilly. All rights reserved.
This page updated 11-Aug-2009