In the Vanguard of Night Baseball
---
| | | |
| --- | --- | --- |
| The old grandstand of Shulthis Stadium, from the outside, Sep-2011. | What is left of the baseball stand. | Today, the field is used solely for football. |
---
Quick Facts:
Location: Riverside Park, Independence, Kan.
Opened: 1918 (renovated: 2016)
Baseball stand demolished: 2015
Home team: Independence Producers, Western Association (1925, 1928-32); Independence Yankees (1947-50), Browns (1952), Kansas-Oklahoma-Missouri League
Capacity: Unknown
---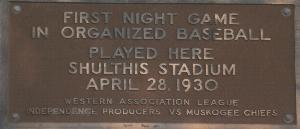 Visitors who show up for Independence High School Bulldogs football games at Emmot Field may not realize that they are on the site of one of the first night baseball games. The grounds have not been used for baseball in many years; a new grandstand is in place for football, and the old Shulthis Stadium baseball stand was in severe disrepair.

However, a plaque on the outside of the old baseball stand proclaimed that the Independence Producers played a night game in the Western Association on April 28, 1930, reputedly the first ever in organized baseball. The Producers lost to Muskogee, 13-3. (Des Moines, Iowa, claims the first night game under permanent lights four days later; the Demons played most of their 1930 season under the lights. There had been numerous amateur and semi-pro games played under temporary lights going back half a century; the first recorded attempt was in Hull, Mass., in 1880.)

Sadly, given the park's place in history, the old baseball stand is no longer maintained. Unified School District 446 has no plans to restore baseball to the site, and in fact they are looking to tear down the decaying baseball stand. As of the summer of 2012, locals were rallying to have the stand restored in the name of historic preservation, but it was torn down in the summer of 2015.
---
Return to the Stadiums page
Return to Charlie's home page
E-mail: charlies.ballparks@verizon.net
---
Site and images Copyright © 2011 Charles O'Reilly. All rights reserved.
This page updated 17-Aug-2016