In a League of Its Own
---
| | |
| --- | --- |
| Exterior of Huntingburg League Stadium, Jul-2003. | The seating bowl, as seen through a center-field fence knothole. |
---
Quick Facts:
Location: Huntingburg City Park, southeast of US 231 and Indiana 64, Huntingburg, Ind.
Opened: 1894 (stadium rebuilt 1991)
Home team: Dubois County Dragons, Heartland League (1996-98), Frontier League (1999-2002)
Capacity: 5,000 (approx.)
---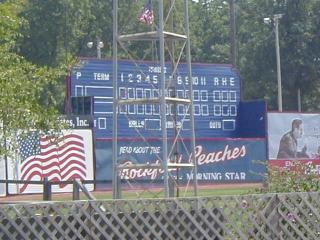 In 1991, the stadium portrayed a long-gone field in Illinois.

League Stadium was built in 1894 but was totally rebuilt for the movie "A League of Their Own". After much of the stadium structure was removed in 1985, the production company rebuilt it to their own specifications in 1991, including a post-up scoreboard in left field. An electric scoreboard was added when the Dubois County Dragons started using the park for Heartland League games.

In its current state, League Stadium has no outfield advertising except that which was placed for the movie. I got some good photos by shooting through knotholes in the outfield wall, which may have been deliberately placed when the movie was made.

Ironically, the Dubois County Dragons moved to Kenosha, Wis., for the 2003 season, and they played at a ballpark that actually was used for the All-American Girls Professional Baseball League.

Most recently, the ballpark has been seen hosting the Prospect League, a college summer league.
---
Return to the Stadiums page
Return to Charlie's home page
E-mail: charliesballparks@verizon.net
---
Site and images Copyright © 2003 Charles O'Reilly. All rights reserved.
This page updated 17-Jun-2009