Chronological Tour: Stop 273

In the Shadow of the Gateway to the West
---
| | | |
| --- | --- | --- |
| Main entrance to GMC Stadium, Jul-2004. | The seating bowl, as seen from above the right-field berm. | A view from the suites. |
---
Quick Facts:
Location: Sauget Industrial Parkway (I-255 exit 15), Sauget, Ill.
Opened: 2002 as I-255 Stadium
Additional names: GMC Stadium (2003), GCS Ballpark (2009)
Home team: Gateway Grizzlies (2002-present), Frontier League
Capacity: 5,300 (approx.)
Rating:



3 baseballs
---
This ballpark, like the community in which it resides, is a family affair.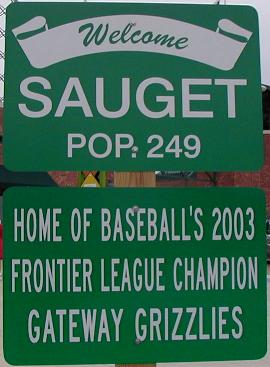 Small town, big team, big dream.

The Sauget family established this town. It is a strip of land about three miles long, from the Mississippi River to I-255, and perhaps a mile wide. Fewer than 250 people live in the town, mostly clustered around the city hall and Sauget Field along Falling Springs Road. The rest of the area is prime industrial territory, containing an airport and criss-crossed by numerous freight rail lines. As of 2004, Richard Sauget Jr. was the mayor.

His father, Richard Sauget Sr., had a cup of coffee in the major leagues in the early 1970s, as a catcher. It was his dream to develop the land around exit 15 of I-255 into a white-collar industrial area, anchored by a minor-league stadium. While the additional construction, perhaps including hotels and so forth, has not yet developed, the ballpark was ready in 2002 and the Frontier League's Gateway Grizzlies, having spent one season at Sauget Field, moved in and were an instant success.

GMC Stadium, sponsored by a dealership next door to the park, consists of about ten rows of stadium seats in a lower seating bowl, along with twelve "sky suite" areas above the concourse. These are outdoor suites covered by a roof, six on each side of the enclosed press box. In addition, there is a picnic area down the first-base line where "Aunt Rose" hangs her K Korner along a clothesline. (The night I attended, Kevin Lee and Dan Smith combined for 16 strikeouts, keeping Aunt Rose busy all evening.) The park also features a first-class kids' fun zone down the third-base line, and there is berm seating along the third-base line and in front of the scoreboard and advertising wall in right field.

Some people I spoke to at GMC Stadium said the team has taken off beyond the Sauget family's wildest dreams. I-255 brings traffic from the south end of St. Louis, and reportedly as many as 40 percent of the team's fans come from that area of Missouri. With the Cardinals building a replacement for Busch Stadium, that ticket may become harder to get and the Grizzlies, along with their rival River City Rascals, may become even hotter.
---
Return to the Stadiums page
Return to Charlie's home page
E-mail: charlies.ballparks@verizon.net
---
Site and images Copyright © 2004 Charles O'Reilly. All rights reserved.
This page updated 8-Apr-2010