Al Lang Field
---
| | |
| --- | --- |
| Home-plate entrance to Al Lang Field, Aug-2003. | The main seating area. |
---
Quick Facts:
Location: Between 1 Street South and Bayshore Drive at 2 Avenue, St. Petersburg, Fla.
Opened: 1947 (stadium rebuilt 1977)
Additional names: Florida Power Park (1998-2002), Progress Energy Park (2003-08)
Home team: St. Petersburg Cardinals (1966-97), Devil Rays (1998-2000), Florida State League; St. Petersburg Pelicans, Senior Professional Baseball Association (winter 1989-90);

spring training, St. Louis Cardinals (1947-97), New York Mets (1969-87), Tampa Bay Devil Rays (1998-2007), Rays (2008)

;

FC Tampa Bay, North American Soccer League (2011-12)

Capacity: 6,438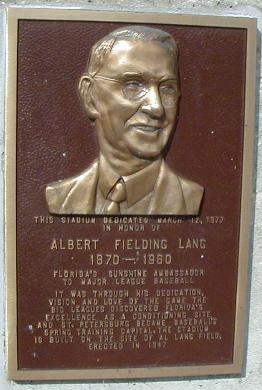 The dedication plaque to Al Lang.
---
As you can see on the dedication plaque to the right, Al Lang was a mover and shaker in Florida baseball from the 1910s forward. Teams had occasionally trained in Florida prior to Lang's involvement, but in 1914 Lang, then the mayor of St. Petersburg, convinced the St. Louis Browns to train in his home town. In 1947, a new stadium dedicated to Lang was built to accommodate the St. Louis Cardinals, who had been training in St. Petersburg since 1938.

The current stadium was built in 1977, and it acquired a corporate sponsor, Florida Power, in 1998. The stadium later became Progress Energy Park, reflecting the corporate parent of Florida Power, but the sponsorship agreement ended when the Rays moved their spring training to Port Charlotte.

Right next to Al Lang Field is the headquarters building of the National Association of Professional Baseball Leagues, the owners of the trademark Minor League Baseball. The National Association, in existence since 1902, coordinates dealings among affiliated professional teams and leagues, and administers the National Agreement between itself and Major League Baseball.

There is a proposal on the board to build a new major league facility on the site of Al Lang Field and move the Tampa Bay Rays there. This move, which would only be several blocks, still requires local approvals. In the meantime, FC Tampa Bay, a minor pro soccer club that evokes the old Tampa Bay Rowdies of the North American Soccer League, have made arrangements to utilize Al Lang Field for their 2011 and 2012 seasons.
---
Return to the Stadiums page
Return to Charlie's home page
E-mail: charlies.ballparks@verizon.net
---
Site and images Copyright © 2003 Charles O'Reilly. All rights reserved.
This page updated 6-Jul-2017