Chronological Tour: Stop 363

A New Look in Miami
---
| | | |
| --- | --- | --- |
| The home-plate entrance, Aug-2012. The protrusion holds the retracted roof when it is opened. | Looking at the seating bowl from the corner of the upper deck down the third-base line. | A view from directly behind the plate. |
---
Quick Facts:
Location: 6 Street at 16 Avenue NW, Miami, Fla. (map it using Google Maps)
Opened: 2012
Home team: Miami Marlins, National League (2012-present)
Capacity: 37,442
Rating:




4 baseballs
---
There is a new, funky ballpark in Major League Baseball.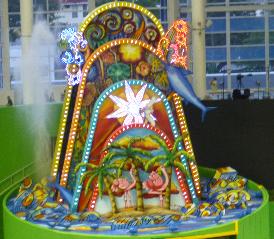 After years of building ballparks that could be called "retro", the architectural firm Populous came up with a completely new design for the new home of the rebranded Miami Marlins, who moved here in 2012 from the home of the Dolphins in Miami Gardens.
The new park, on the site of the old Orange Bowl Stadium on the outskirts of Little Havana, pays the slightest homage to the old structure with an exhibit and a piece of public art, but otherwise this park does its own thing. Its bright colors evoke the vibrancy of the city's neighborhoods as well as South Beach several miles to the east, and so does the sculpture (right) that dominates a portion of the outfield view and goes into action (as shown) when a Marlin hits a home run.
As might be expected, ticket prices are a little bit high, but not dramatic. Like the Orange Bowl, though, parking is scarce, but if you go west of the park, enterprising residents will let you park on their lawns at a reasonable rate.
Odd quirks of the park include dual aquariums behind the plate, actually visible during the game with live tropical fish, and a Bobblehead Museum on the concourse.
The park is certainly different, but as with most of the new parks, it works for where it is. There is no need for this team to play in a football stadium it will never fill; the Marlins' fan base will fit in here just fine.
---
Return to the Stadiums page
Return to Charlie's home page
E-mail: charlies.ballparks@verizon.net
---
Site and images Copyright © 2012 Charles O'Reilly. All rights reserved.
This page updated 28-Aug-2016