Chronological Tour: Stop 255

Baseball Grounds of Jacksonville
---
| | | |
| --- | --- | --- |
| Main entrance to the Baseball Grounds of Jacksonville, Aug-2003. | Peering in from beyond the left-field fence. | The park overlooks Gator Bowl Stadium as well as harbor bridges. |
---
Quick Facts:
Location: A. Philip Randolph Boulevard and Adams Street, Jacksonville, Fla. (map it using Google Maps)
Opened: 2003
Home team: Jacksonville Suns (2003-16), Jumbo Shrimp (2017-present), Southern League
Capacity: 5,983; 10,000 including bleacher and berm seating
Rating:



3 baseballs
---
This new park, between EverBank Field (Gator Bowl Stadium) and the new Jacksonville Arena, looks spectacular from the outside, but I couldn't give it my top rating because of a few shortcomings.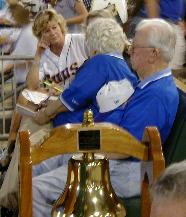 Team president Peter Bragan and his bell.

One was the same problem I had encountered in Peoria earlier in the season, that there is no whiteboard for the lineups and they announced those lineups a good 25 minutes before game time. (The whiteboard issue was fixed by my 2011 visit.) Another is that parking is a bit tight and mostly charged for (although I managed to sneak into the nearby fairgrounds lot and not pay in 2003 – no such luck in 2011). Finally, there's a design flaw on the third-base side that has some fans upset. Instead of going back to the concourse, one of the aisles leads down to the lower level; this causes people to cut through a row rather unnecessarily.

Still, it's a nice piece of eye candy, looking out at the football stadium and the nearby bridges, and with a church left standing on a corner of the property (it doesn't interfere in any way, as it's off the third-base side). It does have a very short right-field porch, at 316 feet. An opposing player got hold of one and put it clear over the stadium, into the ruins of Wolfson Park, which I still mourn.

One feature I liked is the president's couch and bell. Team president Peter Bragan, his wife, and sometimes a special guest sit in the couch behind home plate, and Bragan rings an old locomotive bell every time the Suns score a run. Bragan has announced his retirement after the 2016 season, and with it the Suns name was also retired. The club became the Jumbo Shrimp for 2017, in homage to the coastal harvesting industry.
---
Return to the Stadiums page
Return to Charlie's home page
E-mail: charlies.ballparks@verizon.net
---
Site and images Copyright © 2003 Charles O'Reilly. All rights reserved.
This page updated 15-Jan-2016