Chronological Tour: Stop 260

Jackie Robinson Ballpark
---
| | | |
| --- | --- | --- |
| Entrance to the former City Island Ballpark, Aug-2003. | Most of the seating bowl. | The Halifax River is visible, along with the new Route 92 bridge that spans it. |
---
Quick Facts:
Location: City Island and Orange avenues, Daytona Beach, Fla. (map it using Google Maps)
Opened: 1914 as City Island Ballpark (stadium structure built 1935, renovated 1949, 1962, 1973, 2000)
Additional names: Jackie Robinson Ballpark (1988)
Home team: Daytona Beach Islanders (1920-24, 1928, 1936-41, 1946-66, 1977, 1985-86), Dodgers (1968-73), Astros (1978-84), Admirals (1987), Daytona Cubs (1993-2014), Tortugas (2015-present), Florida State League; Daytona Beach Explorers, Senior Professional Baseball Association (1990);

spring training, St. Louis Cardinals (1937), Brooklyn Dodgers (1946), Baltimore Orioles (1955), Montréal Expos (1973-80)

;

Bethune-Cookman Wildcats, Mid-Eastern Athletic Conference

Capacity: 4,000
Rating:




4 baseballs
---
After seeing several games in these modern spring training facilities, it was quite refreshing to show up at a park that is in a similar state to when it was first erected.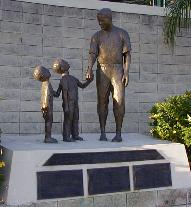 Jackie and local boys, circa 1946.

The field is said to date to 1914, and the first pro games were played in 1920, but there was no permanent stadium structure until 1935. The existing home plate and first base covered grandstand were erected in 1962, and they underwent extensive repairs after Hurricane Floyd hit in 1999, but the reconstruction was to similar specifications to what came before. The third-base side bleacher, first installed in the late 1940s and rebuilt in the 1970s, has aluminum benches. For day games, the covered roof comes in handy, but for night games, ironically the bleachers are the best seats in the house, as the sun comes streaming into the first-base stand before it sets.

The park was named after Jackie Robinson in 1988 and a statue of him and two local boys sits just outside the main gate. Robinson had been denied the opportunity to play ball in several Florida cities during 1946 spring training with the Dodgers, but he was finally able to play a game here on St. Patrick's Day in what was then known as City Island Ballpark. In 2005, the entry plaza along the west side of the island was reconfigured as a museum walk in tribute to Robinson.

City Island, one of two in the nation that hosts a ball field (the other is in Harrisburg), also contains the Volusia County courthouse and the public library, as well as a marina. The island itself is in the Halifax River.
---
Return to the Stadiums page
Return to Charlie's home page
E-mail: charlies.ballparks@verizon.net
---
Site and images Copyright © 2003 Charles O'Reilly. All rights reserved.
This page updated 6-Jul-2017