Chronological Tour: Stop 60

Home of the Blue Rocks
---
| | | |
| --- | --- | --- |
| Exterior of Frawley Stadium, Sep-2009. | The seating bowl, as seen through the picnic area in front of the Blue Moose Grille in right field. | Home plate spectators sit behind the protective screen and have a view of downtown Wilmington. |
---
Quick Facts:
Location: Off I-95 in Pettinaro Park, South Madison Street, Wilmington, Del. (map it using Google Maps)
Opened: 1993 as Judy Johnson Field at Legends Stadium
Additional names: Daniel S. Frawley Stadium (1994)
Home team: Wilmington Blue Rocks, Carolina League (1993-present)
Capacity: 6,532
Rating:



3 baseballs
---
Wilmington's Daniel S. Frawley Stadium is the first of a breed of ball parks that follow a similar plan, including Waterfront Park in Trenton, and to a lesser extent Prince George's Stadium in Bowie and Dodd Stadium in Norwich.

The field is built in an old industrial park, so it was necessary to rotate it so it didn't overlook all those buildings. As a result, I-95 and the city of Wilmington dominate the skyline – a good thing. (The unfortunate thing is that the setting sun sometimes gets into the first baseman's eyes.) From some angles, Amtrak and commuter trains are also visible. A large Blue Rocks logo above the press box is clearly visible from the nearby freeway, calling attention to the stadium. The industrial park area is being reconfigured as an entertainment district along the Christina River, while office buildings are rising on its north end.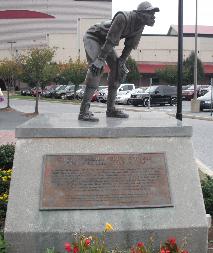 Originally, the park was known as Legends Stadium; it was renamed in 1994 for Wilmington mayor Daniel Frawley, who had pushed for a return of the Blue Rocks. Mayor Frawley died shortly after the park opened. From its opening, the field has been dedicated as "Judy Johnson Field", in honor of one of Wilmington's favorite sons, the Hall of Fame Negro Leaguer.
In 2001, the Blue Rocks expanded the park to add the Blue Moose Grille down the right-field line. General admission seating, which had been down that line, was moved to a new section of grandstand in left field, elevated behind the concourse. There is no berm seating at this ballpark.
The current Blue Rocks team, in the Carolina League, dates only to 1993, but they have already won the league title several times. An earlier Blue Rocks club played in the Interstate League (Class B) in the 1940s; Philadelphia Phillies pitcher Robin Roberts went 9-1 for Wilmington prior to taking the short ride up Route 13 to Shibe Park in 1948. Roberts' number was retired by the Blue Rocks in 1998.
---
| Game # | Date | League | Level | Result |
| --- | --- | --- | --- | --- |
| 139 | Thu 4-Aug-1994 | Carolina | A | WILMINGTON 3, Winston-Salem 0 |
| 185 | Thu 31-Aug-1995 | Carolina | A | WILMINGTON 4, Frederick 3, 10 inn |
| 208 | Sun 28-Jul-1996 | Carolina | A | WILMINGTON 3, Salem 0 |
| 247 | Sun 6-Apr-1997 | Carolina | A | Frederick 14, WILMINGTON 10 |
| 379 | Sun 15-Aug-1999 | Carolina | A | WILMINGTON 5, Kinston 3 |
| 807 | Fri 14-Apr-2006 | Carolina | A | Salem 6, WILMINGTON 5 |
| 871 | Sun 29-Jul-2007 | Carolina | A | Kinston 2, WILMINGTON 0 |
| 1033 | Mon 7-Sep-2009 | Carolina | A | WILMINGTON 3, Frederick 0 |
| 1377 | Sat 23-May-2015 | Carolina | A | WILMINGTON 1, Carolina 0 |
| 1553 | Sun 11-Jun-2017 | Carolina | A | Buies Creek 4, WILMINGTON 0 |
| 1714 | Mon 3-Sep-2018 | Carolina | A | Potomac 5, WILMINGTON 4, 10 inn |
Return to the Stadiums page
Return to Charlie's home page
E-mail: charlies.ballparks@verizon.net
---
Site and images Copyright © 2009 Charles O'Reilly. All rights reserved.
This page updated 3-Sep-2018