Chronological Tour: Stop 123

Coors Field
---
| | | |
| --- | --- | --- |
| Home-plate entry to Coors Field, Aug-2009. | A look in at the stadium from The Rockpile in straightaway center field. | The view from behind the plate. The Front Range would be off to the left, just out of the photo. |
---
Quick Facts:
Location: Blake and 20th Streets near I-25, Denver, Colo. (map it using Google Maps)
Opened: 1995
Home team: Colorado Rockies, National League (1995-present)
Capacity: 50,200
Rating:




4 baseballs
---
Perhaps the Colorado Rockies stole their name from a hockey franchise that had moved to the swamps of the Hackensack River in New Jersey a decade earlier, but their new park, which was ready in 1995 after two seasons at Mile High Stadium, makes up for it.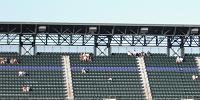 The official elevation of Coors Field is just shy of a mile, but a row of seats painted blue rather than green in the upper deck, five rows shy of the top of the park, denotes the 5,280-foot mark in this, the Mile High City. Baseballs have a tendency to travel farther in the upper elevations, so the park was built larger, with the deepest fences in the majors. As a result, offense has risen because outfielders need to cover more ground and more balls drop in for extra-base hits as well as sailing out in the general direction of the Front Range.
It may feel like you're watching a pinball game, but the park is structurally attractive and comfortable, with the latest hot feature, a lower-deck concourse from which you can order concessions and watch the game at the same time.
My one regret about the park is that more seats could not have a view of the Front Range. The park faces north, which is unorthodox in itself but does give fans along the right-field side a look at the mountains.
---
Return to the Stadiums page
Return to Charlie's home page
E-mail: charlies.ballparks@verizon.net
---
Site and images Copyright © 2009 Charles O'Reilly. All rights reserved.
This page updated 5-Sep-2013