Hughes Stadium
---
| | | |
| --- | --- | --- |
| Exterior of Sacramento's Hughes Stadium, Aug-2008. | A look inside the open end of the stadium, from Suttonville Road. | The view through the north end zone portal. |
---
Quick Facts:
Location: Suttonville Road at Panther Way (east of Freeport Boulevard), Sacramento, Calif.
Opened: 1928 as Sacramento Stadium (1972 for baseball)
Alternate names: Hughes Stadium (before 1972)
Closed: 1974 for baseball
Home team: Sacramento Solons, Pacific Coast League (1972-74)
Capacity: 22,000
---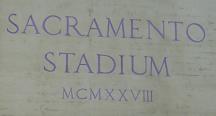 Hughes Stadium in Sacramento opened in 1928 as a football stadium, and a football stadium it remains today. It currently is the home field for the Sacramento City College football team, and it also hosts numerous high school games and other exhibitions.

For three years, it also hosted a baseball team, despite being even more ill-suited to baseball than the Los Angeles Coliseum. Even though the left-field wall was just 233 feet away, the Pacific Coast League played here from 1972 to 1974.

The city did not see pro baseball again until the Sacramento Steelheads played in the more recently built Union Stadium across the street. Even that club lasted just one year. The current Sacramento RiverCats play across the river at Raley Field in West Sacramento.

I was not able to get into Hughes Stadium on my 2008 visit.
---
Return to the Stadiums page
Return to Charlie's home page
E-mail: charliesballparks@verizon.net
---
Site and images Copyright © 2008 Charles O'Reilly. All rights reserved.
This page updated 2-Aug-2008