Chronological Tour: Stop 68

Well!
---
| | | |
| --- | --- | --- |
| Walking into the Epicenter in Aug-2009. | A look at the seating bowl from the third-base picnic area beyond the grandstand. | The park looks out into the valley in right field, into the mountains in left. |
---
Quick Facts:
Location: Rochester Avenue just south of Foothill Boulevard, Rancho Cucamonga, Calif. (map it using Google Maps)
Opened: 1993
Additional names: LoanMart Field (2013)
Home team: Rancho Cucamonga Quakes, California League (1993-present)
Capacity: 6,615
Rating:




4 baseballs
---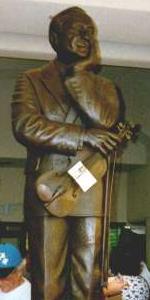 On his radio program in the 1940s, the comedian and violinist Jack Benny had a skit originating from Hollywood in which a train station announcer would call for passengers on the train "now boarding for Anaheim, Azusa, and Cuc-a-monga!"

The skit helped put this sleepy winery town, along Foothill Boulevard (Route 66) just west of San Bernardino, on the map. In tribute, when they built this ballpark just off Interstate 15, it landed at the corner of Jack Benny Boulevard and Rochester Avenue, and they placed a statue of Benny and his violin in the foyer. (The statue was removed to a new city-owned arts center a few years ago. The city owns the ballpark as well.) The park's stated capacity of 6615 might pay tribute to the highway numbers, or it might be coincidental.

The park was one of several outstanding facilities that opened up in the Valley in the 1990s, serving a clientele that could no longer be bothered with the long, traffic-choked trips to Los Angeles, Anaheim, or San Diego for games. While the main concourse and its concessions are beneath the stands, fans can see the game when ordering from stands located down either base line.

Despite being located in an earthquake zone and actually experiencing several tremors during games (thus the name), the Epicenter has been a major factor in the revitalization of the California League. The team regularly led the Cal in attendance during its first few seasons.

The stadium became known as LoanMart Field in 2013 thanks to a naming rights deal; however, the City of Rancho Cucamonga still calls the complex (including additional athletic fields and pavilions) the Epicenter.
---
Return to the Stadiums page
Return to Charlie's home page
E-mail: charlies.ballparks@verizon.net
---
Site and images Copyright © 1994, 2009 Charles O'Reilly. All rights reserved.
This page updated 22-Apr-2014