Chronological Tour: Stop 333

Home of the Titans, and the Flyers
---
| | | |
| --- | --- | --- |
| Main entrance to Goodwin Field, Jul-2008. | Looking at the grandstand from down the third-base line. | The view from just in front of the press box. |
---
Quick Facts: Rating:



3 baseballs
---
Goodwin Field is the home of the four-time NCAA Division I baseball champion Titans of Cal State Fullerton. The site received my attention for the first time when it became the home of the Fullerton Flyers of the independent Golden League for the 2005 season.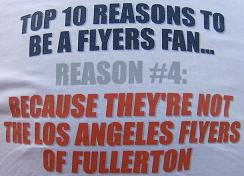 The Flyers have proved to be one of the most successful franchises so far in the Golden League, which was in its fourth season of operation when I visited. Several promotions, including the scheduling of a post-game concert on adjacent Titan Field (the CSU-F soccer field) the night I attended, have kept fans coming to the park. Also helping out have been creative marketing ideas like the T-shirt depicted on the right, which plays off the unwieldy name of the Major League team in adjacent Anaheim.
As I understand it, the expense to the club of using the college facility has had the team looking at the possibility of expanding Amerige Field in downtown Fullerton. While there is not nearly enough parking to accommodate the crowds one might typically expect at a professional baseball game, there are mass transit options available at the downtown site.
The Flyers shut down operations after the 2010 season, along with the rest of the Golden League, but the club is back for 2013 as part of a new outfit, the American West Baseball League.
---
Return to the Stadiums page
Return to Charlie's home page
E-mail: charlies.ballparks@verizon.net
---
Site and images Copyright © 2008 Charles O'Reilly. All rights reserved.
This page updated 10-Jan-2013