Chronological Tour: Stop 286

Grizzlies Stadium
---
| | | |
| --- | --- | --- |
| Front gate of Grizzlies Stadium (now Chukchansi Park), Aug-2004. | A view in from the top of the right-field bleachers. | The park overlooks Fresno's downtown, which city officials are attempting to rehabilitate. |
---
Quick Facts:
Location: Tulare and H Streets, Fresno, Calif. (map it using Google Maps)
Opened: 2002 as Grizzlies Stadium
Additional names: Chukchansi Park (2007)
Home team: Fresno Grizzlies, Pacific Coast League (2002-present)
Capacity: 12,500
Rating:





5 baseballs
---
They're trying to revive Fresno's downtown, but so far it isn't working. Fulton Street is closed and is now a pedestrian mall, but there wasn't anyone there when I arrived for a Saturday-evening game. However, they have built a gem of a ballpark a couple blocks away.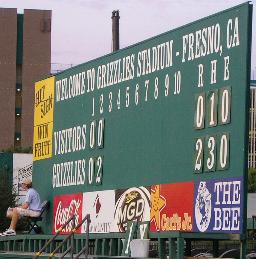 Yes, "Hit Sign, Win Fruit".

Grizzlies Stadium is a legitimate double-deck ballpark, although part of the upper deck is separated and reserved for season-ticket "club" holders. There is no berm seating here; instead, the grandstand hooks well around into right field, and there is a small bleacher area in left field. Left-center, under the scoreboard, is reserved for pool parties – yes, another park that has added an in-ground pool as a feature, following the lead of BOB in Phoenix and the park in Reading, Pa.

While there are stairs up to the upper deck, they're not nearly as intrusive as they are in many parks. The concourse is sufficiently wide that the stairs don't get in the way, as I've seen in a few places. And with a California-style tip of the hat to Ebbets Field, the manually operated scoreboard in right-center field has a sign that reads "Hit Sign, Win Fruit."

Prior to the 2007 season, Grizzlies Stadium got a naming sponsor. The Chukchansi Gold Resort and Casino in Coarsegold, 40 miles north on state highway 41, now has its name on the park.
---
Return to the Stadiums page
Return to Charlie's home page
E-mail: charlies.ballparks@verizon.net
---
Site and images Copyright © 2004 Charles O'Reilly. All rights reserved.
This page updated 14-Aug-2009