Chronological Tour: Stop 70

Scottsdale Stadium
---
| | | |
| --- | --- | --- |
| A Scottsdale Stadium entrance, Oct-2014. | The seating bowl, taken on an idle day, Apr-2004. | A look at the park from directly behind the plate. |
---
Quick Facts: Rating:




4 baseballs
---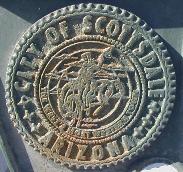 Scottsdale Stadium was built in 1992 to replace an older spring training facility for the San Francisco Giants, as well as to host the Phoenix Firebirds for six seasons until Major League Baseball arrived in the Valley in the form of the Arizona Diamondbacks.

I saw a Firebirds game here in 1994. While that team has left for Fresno back in 1998, the stadium is as busy as ever, hosting not only Giants' spring training but also the Arizona Fall League, the prospect loop that plays in October and November. The Fall League is based out of Scottsdale, and its championship game is played there each year.

A renovation prior to the 2009 World Baseball Classic added a pavilion beyond right field and upgraded the scoreboard.
---
Return to the Stadiums page
Return to Charlie's home page
E-mail: charlies.ballparks@verizon.net
---
Site and images Copyright © 2004, 2014 Charles O'Reilly. All rights reserved.
This page updated 14-Oct-2016