Chronological Tour: Stop 370

A New Spring Home for an Old Resident
---
| | | |
| --- | --- | --- |
| First-base entrance to Cubs Park, Jul-2014. | The seating bowl as seen from down the third-base line. | Most of the park is idle during an Arizona rookie league game. |
---
Quick Facts: Rating:



3 baseballs
---
The Chicago Cubs were one of the first teams to move to the Arizona desert for spring training. Most recently, they had used HoHoKam Park, which was renovated to serve as the spring home of the Oakland Athletics beginning in 2015. This new facility near Riverview Park is about six miles west (closer to Phoenix).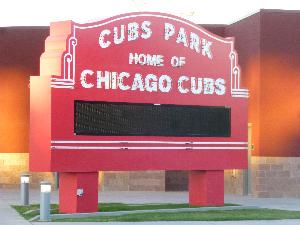 The park is convenient to motorists, located near the intersection of the Loop 101 and Loop 202 freeways. (There is no exit for Rio Salado Parkway off Loop 101; take Loop 202 east for one exit to Dobson Road and double back.)
Initially, I did not have a full review of the park, as I attended an Arizona League game here after watching a Major League game in Phoenix earlier in the day. That meant there was no public address announcement and no video board; only the line score portion of the scoreboard was operating. This is standard procedure for the complex-based rookie leagues. I did see an Arizona Fall League game later in the season, but even there the only enhancement was a public address announcer and a single concession stand.
A partnership with Sloan Valve Co. effective in January 2015 changed the name of the park as shown on the Wrigley-style marquee seen at right.
---
Return to the Stadiums page
Return to Charlie's home page
E-mail: charlies.ballparks@verizon.net
---
Site and images Copyright © 2014 Charles O'Reilly. All rights reserved.
This page updated 22-Jan-2015