Channell-Lee Stadium
---
| | | |
| --- | --- | --- |
| The former baseball entrance to Channell-Lee Stadium in Opp, Jul-2015. | The cover behind the baseball stands is still intact. | A view from what would have been behind the plate at what is now strictly a football stadium. |
---
Quick Facts:
Location: Jeffcoat Avenue at Spurlin Street, 2 blocks north of SR 12, Opp, Ala.
Opened: 1950
Home team: Andalusia-Opp Indians, Alabama-Florida League (1954)
---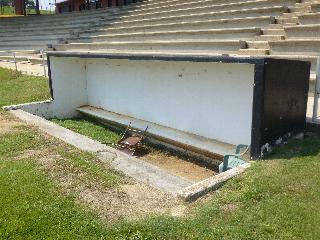 Channell-Lee Stadium, built in 1950 to host high school baseball and football, is very similar in construction to its neighbor in Andalusia, the county seat 16 miles to the west.

In 1954, an Indians farm team in the Class D Alabama-Florida League split its season between the two similar parks. This was the only professional baseball ever played in the relatively small town of Opp.

Interestingly, while the stadium has not been used for baseball in many years, having been dedicated strictly to football, the dugouts are still intact, as seen above.
---
Return to the Stadiums page
Return to Charlie's home page
E-mail: charlies.ballparks@verizon.net
---
Site and images Copyright © 2015 Charles O'Reilly. All rights reserved.
This page updated 3-Aug-2015