Chronological Tour: Stop 47

Watt Powell Park
---
| | | |
| --- | --- | --- |
| The exterior of Watt Powell Park, Aug-2000. | The seating bowl and right-field picnic area, Jul-2003. | Here you can see the rapid and scenic rise of a hilltop just beyond the park – and of the field just inside the fence. |
---
Quick Facts:
Location: MacCorkle Avenue at 35th Street, Charleston, W.Va.
Opened: 1949
Home team: Charleston Senators, Central League (1949-51), American Association (1952-60); Charleston Marlins, International League (1961); Charleston Indians, Eastern League (1962-64); Charleston Charlies, International League (1971-83); Charleston Wheelers (1987-93), Charleston Alley Cats (1994-2004), South Atlantic League
Capacity: 4,500
Rating:



3 baseballs
---
Watt Powell Park was built shortly after the Second World War, on the site of a previous facility originally called Exhibition Park that opened in 1916. The park has hosted several clubs in its 55-year history.

Most recently, it's been in the South Atlantic League. The Charleston Wheelers entered in 1987, changing their name to the Alley Cats in 1994, the season after I visited.

West Virginia is known as the Mountain State, and that even applies here in its largest city and capital. Charleston is set in the valley of the Kanawha River, and here the mountains rise directly above the outfield wall for a picturesque effect. The outfield also has some waves in it, with a distinctive incline toward the right-field wall.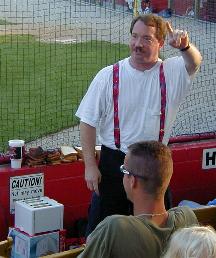 Toast Man, and his toaster and toast.

One memorable character at the park when I visited was a fellow who would make up chants for each of the players and lead the fans in them. An instance from 1993: Micah Franklin led to "We're for Micah!" In 2003, I got back to the park and took a photo of the man, Rod Blackstone, who is better known as "Toast Man". When an opposing batter strikes out, the crowd yells "You are toast!" and Blackstone tosses freshly toasted bread into the crowd. (One warning: Don't eat the toast. That's a sure way to earn the ire of the fans around you.)

Dale Cooper, who first told me of Blackstone in an e-mail correspondence, also tells of the legend of the longest home run at the park, hit by Carlos Delgado of the Myrtle Beach Hurricanes. Delgado's poke landed in a passing coal car, and rumor has it that the ball wound up in Pittsburgh. Anyone for some bituminous cowhide?

Starting as early as 1993, there were plans – vigorously opposed by the fans in Rowdy Alley as well as many ballpark aficionados – to move Charleston's team downtown, near the state capitol. To help pay for the project, the land containing Watt Powell Park would be sold, and indeed the park is due to be demolished in the fall of 2005. The club adopted a new name for 2005 as well, to honor their move into the new park.
---
A 1993 scenic view | A look at the seating bowl, 1993
---
Return to the Stadiums page
Return to Charlie's home page
E-mail: charliesballparks@verizon.net
---
Site and images Copyright © 1993, 2000, 2003 Charles O'Reilly. All rights reserved.
This page updated 10-Aug-2009